Iron Dog Studio's Gifts of Ostara Live at Red Queen Casino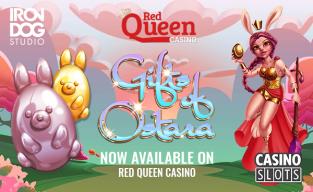 A new slot release from Iron Dog Studio has hit Red Queen Casino, and it comes in the form of Gifts of Ostara. This game is all about the Goddess of Easter, and this game gives players a mix of different parts of the mythology surrounding this holiday and what all went into it coming about.
What Gifts of Ostara Offers
This game is packed with features, first and foremost, and they are what drive the gameplay. You'll have ways to hit multipliers, reels full of sticky wilds, free spins and re-spin opportunities. There are eggs to be found, which are symbols of fertility in the mythology, but they came to be known as something the Easter Bunny came in modern times. This is a cool game with a lot of background mythology behind one of the most popular holidays in the world, and it gives players ways to win their own goodies on the reels.
Visual Quality and Gameplay
This is one of the first game releases of Iron Dog Studio, the rebranded and slots-focused subsidiary of 1x2gaming, which itself has rebranded to 1X2 NETWORK. This is a critical first impression, and they're looking to use Gifts of Ostara and their other initial releases to show they are serious about trying to be one of the best slot production companies in the online gambling world. They're doing this with a combination of great visuals and strong gameplay, and it's this combination that has shown to bring great success to other companies before them.
The Future of Iron Dog Studio
With this release at Red Queen Casino, Iron Dog Studio is making a very serious statement about the direction they are looking to take. They're not settling for being mediocre in the least bit, and they're very interested in trying to take a position at the top of the proverbial pile. There's definitely a ton of competition out there today, but with the way things are structured, there is still room for high-quality slots from yet another provider. That's what they are banking on with this approach, and it has every opportunity to be successful.
Sources
Press Release, Gifts of Ostara Now Available on Red Queen Casino redqueencasino.com, June 22, 2017