Mplay Online Slots
Mplay Games content developer describes itself as a "leading provider of premium games".
Every product needs a great commercial to be sold, and Mplay too needed to pump up the marketing to attract new clients, but…not too much. Let's put it like this – no, we cannot consider them as a "leading" provider; the number of their products is still too low. But, are they making premium games? They sure do.
In the ocean of casino games, slots especially, you need to put a lot of effort to find something different, something that will stick into your memory. We must admit, Mplay's games did succeed to leave a mark.
Their team of creators Mplay describes as passionate. Seems like it, cause in their gaming library you will hardly find two similar titles.
The brand opened its doors in 2020, not so long ago, and they still have that fresh enthusiasm and a will to deliver something exciting and different. Judging by the content they created so far, they are doing a pretty good job.
One doesn't have to be a detective to notice that the main focus of this company is Asia.
The Asian Influence
Just one, fast glimpse at Mplay's gaming portfolio, and it becomes clear that they are highly interested in delivering their content to the Indian market.
Titles like Ludo, Andar Bahar, Jhandi Munda, and Ank, are Indian's greatest entertaining games, highly popular among all the generations.
The people of this massive Asian country loves their dices, and Mplay made it possible to play it online with amazing graphics and exciting features.
Stars of the Bollywood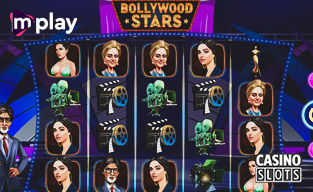 The game that draws the most of our attention has a very catchy name, and a very creative theme – The "Bollywood Stars "
It is very hard to decide what we found more attractive. Is it the music, the host, the famous Bollywood actors spinning on 5-reels…? One is for sure, this slot was a very memorable ride!
Speaking about the mechanics of Mplay's slots…
…the majority of games are using the standard reel format, five reels with three symbols each. Nothing too creative about this, but exciting enough considering there are still many ways to win. Different variations of pay lines slots with pay ways are implemented to boost players' excitement.
Special and Bonus Features
No surprises here, as well. Scatters and Wilds are appearing in Mplay's slots, with traditional use to substitute the other symbols and aim to trigger extra spins and bonus features such as instant cash, which is featured pretty often.
Overall, nothing that you never saw before, but fun enough to keep you glued to your chair for quite some time.
We Loved Snakes and Ladders
The original name of the game is Moksha Patam. This Ancient Indian board game is considered to be a worldwide classic. In the gaming lobby of Mplay, you can find a virtual, improved version of this hit game. It will make you move around the board, waiting for that lucky number on dice to appear, and score you a big win.
We truly enjoyed this game, and we are hoping Mplay will deliver more titles like this in the future.
What More Can a Player Expect?
Taking into matter that Asia is the main focus of the company, at Mplay comprehensive catalog you will find Asian table games like Teen Patti, Dragon Tiger, and Sic Bo, rather than Blackjack and Roulette.
If you don't have any experience in playing the Asian versions of the popular American table games, we suggest you give them a chance.
Interesting said at least.
Our final verdict about the Mplay's book of games can be said in only one word – interesting. Fresh ideas and sharp graphics are the main 2 reasons why you should visit their webpage and take a look at their portfolio. Let us know your opinion in the comments box!
| Slot Name | Rate | Software Name | Theme | Reel | Type |
| --- | --- | --- | --- | --- | --- |
| | 3.0 /5 | mplay | Space, Gems & Jewels | 5 | Video |
| | 3.0 /5 | mplay | Magic | 5 | Video |
| | 3.0 /5 | mplay | Food, Festivity | 5 | Video |
| | 3.0 /5 | mplay | Western | 5 | Video |
Cosmic Jewels
Rated 3 /5
Mystic Magician
Rated 3 /5
Diwali Dhamaka
Rated 3 /5
Wild West Mystery
Rated 3 /5