Revolver Gaming Online Slots
Because Revolver Gaming is a company that produces titles in a ton of different sectors of the gambling industry, their focus is not exclusively on online slots like what you might find with many of their competitors. In spite of that, they still have a quality-focused approach with enough variety within their portfolio to have something that just about every type of player will be able to enjoy. They've also made good decisions about their platform along with other strategic decisions that have put them in a good place in the market as a whole.
Game Quality
The first thing any player notices when sitting down to play a game is how the slot looks. With all of their experience in other types of games, they know how important it is for a title to look great, and they've extended that knowledge over to their slots. Every single one of their online slots looks pretty solid, and that includes some 3D games as well. Not all of their titles use the same style of graphics, but they all do have one thing in common, and that's a high level of aesthetic appeal.
Variety of Gameplay Styles and Features
This company knows that they need to make sure all of their games feel different on some level, so they avoid the gameplay traps that many of their competitors fall into. One of those traps is having games that are essentially the same except for the graphics that are used. You won't find that sort of number-inflating issue here. Instead, you'll find a wide array of different types of gameplay styles and bonus features, and this helps players to find something that feels right to them when they play it instead of just having games that look great.
HTML5 and Mobile Play
Because all of their slots are available through HTML5, players can take their games with them on the go for play on mobile devices. The interfaces for these games are designed well for both tablets and smartphones, and that means you won't have to worry about buttons being scaled down too small to use on smaller screens or any issues like that. They've taken mobile very seriously, which is good because that's the direction that the online slots industry is taking, and many top casinos report that mobile makes up more than half of their slot play in general.
Our Thoughts
The slots produced by Revolver Gaming have high levels of quality in every metric that matters. They can produce titles that look as good as any of the competition is able to, but they still produce enough variety that players won't get bored with the selection. With that having been said, their biggest weakness in this particular sector is that they are spread out with attention on a lot of different types of games, so they don't really seem to care so much about pressing an advantage and trying to really take over the online slots side of things.
| Slot Name | Rate | Software Name | Theme | Reel | Type |
| --- | --- | --- | --- | --- | --- |
| | 4.0 /5 | Revolver Gaming | Chinese | 5 | Video |
| | 3.8 /5 | Revolver Gaming | Fairy Tale | 5 | Video |
| | 3.5 /5 | Revolver Gaming | Animals | 5 | Video |
| | 3.5 /5 | Revolver Gaming | Western | 5 | Video |
| | 3.0 /5 | Revolver Gaming | Irish | 5 | Video |
| | 2.3 /5 | Revolver Gaming | Dragons | 5 | Video |
| | 2.0 /5 | Revolver Gaming | Irish | 5 | Video |
| | - | Revolver Gaming | Fishing | 5 | Video |
| | - | Revolver Gaming | Movies, Pirate | 5 | Video |
| | - | Revolver Gaming | Magic | 3 | Video |
| | - | Revolver Gaming | Superheroes | 5 | Video |
| | - | Revolver Gaming | Medieval | 5 | Video |
| | - | Revolver Gaming | TV Shows | 5 | Video |
| | - | Revolver Gaming | Space | 3 | Video |
| | - | Revolver Gaming | Animals | 9 | Video |
| | - | Revolver Gaming | Retro | 5 | Video |
| | - | Revolver Gaming | Fruit, Drink | 6 | Video |
| | - | Revolver Gaming | Fantasy | 5 | Video |
| | - | Revolver Gaming | Fruit, Casino | 3 | Video |
| | - | Revolver Gaming | Magic | 5 | Video |
| | - | Revolver Gaming | Western | 6 | Video |
288
Rated 4 /5
Reign Of Gnomes
Rated 3.8 /5
Pets Pay Day
Rated 3.5 /5
Deadly Outlaw
Rated 3.5 /5
Irish Coins
Rated 3 /5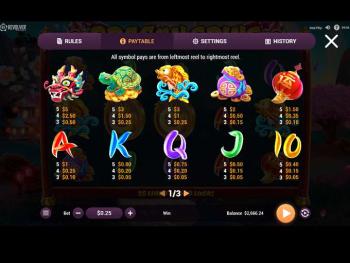 Dragon Spins
Rated 2.3 /5
Rainbow Stacks
Rated 2 /5
Parrots Of The Caribbean
-
Robin Hood And His Merry Wins
-