Slot Factory Online Story
There are many new software companies popping up, but that isn't really the latest news. What was the last time you actually cared about any of those emerging companies? We're pretty sure you can't really remember, but over here we have one that really could be worthy of your attention and your time.
Slot Factory hails from the UK, and it was only introduced in 2019. Even though it is relatively new, the company has managed to gain quite a following, but that's mostly because of the high quality of their products, and the fact that they are owned and operated by Intouch Games.
In case you didn't know Intouch Games first opened its doors all the way back in 2001, and over the next few decades they've built up a massive amount of experience and knowledge. In 2020, these guys have six separate brands and their iGaming empire is a massively big one, with 400 employees.
What About Their Services?
They don't only make games, they provide a whole bunch of different services, namely white label solutions for all those who wish to try their luck at running an online casino.
This is basically a one-stop solution for all operators who seek out a reputable B2B provider. These guys can offer support for a large number of different currencies and languages, so they can cater to many markets and fit all their specific needs.
Slot Factory also provides a top notch back office, that comes with a plethora of different tools for analyzing, reporting, controlling, and marketing. It is a very mighty combo that should be enough for most emerging businesses.
Slot Types
Nowadays, all software providers tend to make games which can be played on mobile devices first and foremost. Long gone are the days of Flash-based software, additional downloads, and similar issues. These guys base all their products on the latest HTML5 platform, so all of their titles can be enjoyed on most mobile and desktop devices.
We aren't talking about some huge portfolio of games here, but diversity is key here, so there are titles spanning various different themes.
As we've said earlier, the list of games isn't that long, and it includes: Woodstock Slots, Wild Treasure Reels, Wild Funland, Wild Diamond Wins, Super Win 7s, Super Spin Doctor, Super Big Wilds, Step On Up Slots, Spin A Win, Slots 4 Kings, Sideshow Slots, Sherlock: To Scratch A Killer, Reel Royalty, Slots Mini, Reel Fruity, Prize Time Slots, Poppin' Pizza Prizes, Pick A Pot O' Gold, Money Grows On Trees, Lucky Moon Lagoon, Live Wild Reels, Krispy Kash, Juggling Jokers, Fruity Looty, Fossil Fruits, Fire And Gold, Dragon's Zen, Double Wild Wins, Crown Duels, Cosmic Wilds, Cherry 7, Casino Nile, Casino Crops, Cashanova Cashpots, Cash Conquest, and Arabian Nights.
Conclusion
All things considered, Slot Factory is basically one fine business. It only took them a few months to build at least some sort of reputation, but let's not forget that they belong to Intouch Games, a company with several decades of experience in iGaming industry.
Conquering new markets and getting new players to like you and your products is not an easy task, but somehow these guys have managed to do just that. We need to watch this space, as there's obviously more of this good stuff coming up in the forthcoming years.
| Slot Name | Rate | Software Name | Theme | Reel | Type |
| --- | --- | --- | --- | --- | --- |
| | 3.0 /5 | Slot Factory | Cars, Racing | 5 | Video |
| | 3.0 /5 | Slot Factory | Fruit | 5 | Video |
| | 2.7 /5 | Slot Factory | Mystical | 5 | Video |
| | 2.5 /5 | Slot Factory | Food, Sweets | 5 | Video |
| | 2.5 /5 | Slot Factory | Gems & Jewels, Cartoon, Flowers, Cute and Fluffy | 5 | Video |
| | 2.3 /5 | Slot Factory | Cards, Casino | 5 | Video |
| | 2.0 /5 | Slot Factory | Animals, Prehistoric, Adventure | 5 | Video |
| | - | Slot Factory | Cards | 5 | Video |
| | - | Slot Factory | Asian, Chinese | 5 | Video |
| | - | Slot Factory | Ice, Fruit | 5 | Video |
| | - | Slot Factory | Cards | 5 | Video |
| | - | Slot Factory | | 5 | Video |
| | - | Slot Factory | Irish, Mythology | 5 | Video |
| | - | Slot Factory | Mystical | 5 | Video |
| | - | Slot Factory | Egyptian | 5 | Video |
| | - | Slot Factory | Animals, Asian, Chinese | 5 | Video |
| | - | Slot Factory | Halloween, Mexican, Festivity | 5 | Video |
| | - | Slot Factory | Animals, Dragons | 5 | Video |
| | - | Slot Factory | Magic | 5 | Video |
Super Speed Reels
Rated 3 /5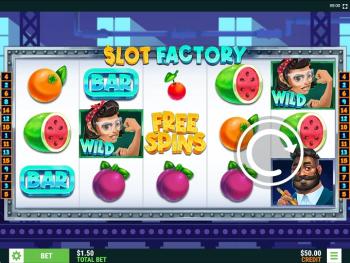 Slot Factory
Rated 3 /5
Cashanova Cashpots
Rated 2.7 /5
Iced Wins
Rated 2.5 /5
Sailor Girls
Rated 2.5 /5
Hold Up Slots
Rated 2.3 /5
Jurassic Wins
Rated 2 /5