Social Slots: Have Fun, Make Virtual Friends and Forget About Cash
While social gaming is nothing new or revolutionary, most active punters are not well informed on the topic, or perhaps it'd be better to say that they just don't bother to figure out what it is.
However
… it's now becoming more and more common to hear that social slots are catching up with their real-money counterparts. In their turn, undeniably impressive communities gathered around social casinos such as Slotomania, Viva Slots, and similar projects do bring out certain interest not only in newbies but also in seasoned players.
Indeed, there should be some weighty grounds for such popularity, right?
Well, this type of entertainment surely has its own virtues: players can choose from a pretty extensive range of one-armed bandits, they can enjoy welcome bonuses and take part in exciting tournaments.
At the end of the day, they even can spread the word about their super wins thanks to viral messages that reach hundreds of virtual friends within seconds.
But the real question
…is it exactly what you want?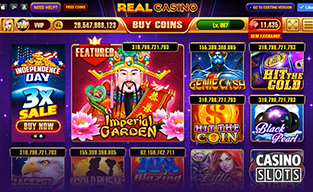 Not As Free As Advertised
First of all, although marketed as entirely free, it's only half of the truth.
Yes, players are greeted with different amounts of coins to start their adventure, as well as extra free credits on a daily basis to continue it, plus, their Facebook friends are able to give them a hand.
Still
… as soon as your "funds" are not sufficient to stay in the game, reach the next level or unlock another slot, you will be offered to buy the coins. Usually, ready-made packages to suit different budgets are already waiting for the user.
By the way, as with the majority of "free" apps, you will be attacked by continuously popping up ads during the gameplay.
So, if it's all about trying a particular title without risking the bankroll, then an online casino looks like a far better place to get familiar with a new release or simply enjoy your longtime favorite. Delivered by the best software developers in the industry, tons of slots are available in Demo mode whenever you need them.
Social Slots RTP
Another thing, which is widely discussed yet still wrapped in a mystery.
Since social casinos are non-wagering and not designed for real-money play, they are not subject to regulatory requirements of gaming commissions.
We all know, video slots provided by online gambling platforms are driven by sophisticated RNGs that ensure absolute randomness of the outcome of every single spin.
Keeping in mind
… RNG and RTP are linked, as well as that social slots simply do not have uniform randomness standards, their RTP can vary greatly taking into consideration the multi-stage system to move forward, which minimizes the worth of "free money".
That's why do not be surprised when you continuously get the same result in the pick-a-prize bonus game left to relish the least valuable option.
To sum up, social pokies are great to kill time and stay in touch with virtual friends, but no matter how hard you try to get on top of the leaderboard, you won't be able to turn your coins into real cash.