August Gaming Software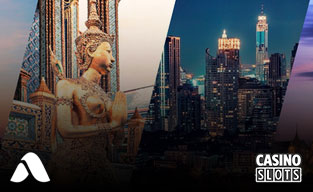 August Gaming has been operating since 2015, being one of the first game producers to emerge from Asia. They are teamed up with several bigger companies, with the selection of games becoming more and more widely available throughout the world. What are the specialities that make the company stand out, and why should you have a look?
The unique Asian aspect, of course, plays a big role, but the main attraction for enjoying August Gaming slots comes from the overall quality of their products. This doesn't only extend to the gaming qualities, but integration, interface and versatility of their offering. Besides slots, the company delivers other gaming products. At the moment the company holds a license from Curacao as well as a certification from iTech Labs.
Sorry, there are no casinos by August Gaming available in your country. Try
these casinos
instead.
The Cornerstones of Game Design
Building slots and other casino games is becoming an art in itself, especially with the competition being at all times high in the markets. How does a modern gaming company stand out in today's competitive markets?
For one, they can stick to their core values and perfect them in order to make sure that the games they produce will be of the highest quality. But what are those core values for August Gaming?
Mathematics is something that clearly stands out. This means that you will not run into the same-old setup from one title to another. Each game is carefully tweaked to support the different functions the games offer, perfecting the gameplay. Keeping the graphics up to date, and making sure your themes are interesting and unique are two other points in which the company excels.
Partnerships for Worldwide Access
The quality of the games has not gone unnoticed in the world of online slots. August Gaming has partnered up with SoftGamings, as well as other reputable providers. If the games are not yet available in your favourite online casinos, they certainly will be in the future.
Though the company does have a lot of competition from other software producers, as well as some other Asian game producers, what they offer is in a way unique thanks to the origins of the company. You'll find plenty of slots from other producers with Asian themes, but most of those are quite superficial when compared to what this company has to offer. Offering these games to foreign markets has proven to be a successful strategy.
Mobile gaming and Certified RNG
Though the Curacao license isn't the strongest one possible, the fact that the slots are certified by iTech Labs is a strong recommendation in itself. This means that the random number generator is tested and certified to be completely fair. Other technological aspects worth a look include mobile gaming. Thanks to HTML5 the games will certainly run on all devices, but more importantly, you'll find an excellent interface that is optimized for touchscreen devices.
All in all, you'll find a surprisingly interesting company with a lot to offer. Take a look at our suggested casinos to choose your place to play!
Useful links