The Hottest Slot Titles of 2015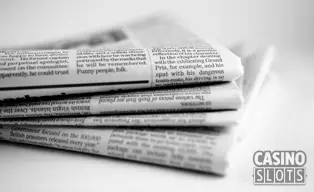 A huge number of new titles were released in the past year, and by looking back at some of them, we can get an idea for what's trendy and what we can expect in 2016.
Dead World – Comic Slots
The first game to consider is Dead World, a game based on a Caliber Comics original series. This game was launched by 1x2 Gaming, and it goes to show that comic book characters and concepts are always popular. We've seen several of them released over the past few years, and there's no reason to expect that pattern to stop now.
Twinkle 7s – Branded Social Slots
American Gaming Systems Interactive showed us that the social slot industry is still running huge, and they did this by pairing with Hostess to bring a Twinkies-themed slot in Twinkle 7's. It's available on the Lucky Play social casino app, and it goes to show that major brands are only a step away from being the focus of online slots in today's environment. We could see more of this in 2016, especially as attitudes become more lax towards gambling as being taboo to some degree.
Graphics and Quality Dominate With BetSoft
BetSoft used 2015 to show once again that game quality and graphic appeal are both extremely important in this industry. The Tipsy Tourist, Alkemore's Tower and A Christmas Carol were all examples of them pushing the limits of what players typically see in the industry, and they did it with a wide range of themes and concepts. Expect more of the same from BetSoft in that they will continue to innovate and push for high-quality games.
Microgaming Dominates Once Again
Microgaming dominated in 2015 with titles like the Titans of the Sun series, Lucky Twins, Basketball Star, So Much Candy, So Much Sushi and even a multiplayer version of Mermaid's Millions. What's important to note here is that they aren't just focused on new releases, though they had plenty of those. Instead, they also put a lot of effort into keeping their classic games up to date and relevant by adding mobile, multi-player, tournament and HD versions of popular titles that might start getting a little dated.
Net Entertainment Keeps Their Lead
NetEnt has kept their lead ahead of the vast majority of the competition over the past 12 months by bringing it with both quality and quantity. Hook's Heroes got a ton of attention for being a departure from the 3D-style graphics that seems to be so popular, though it did so while simultaneously getting a ton of attention for its graphical prowess. The announcement for the Guns N Roses slot was one of the biggest stories of the year without a doubt, and they even released Multiplayer Mayhem, a car racing game that has an extremely high pace. Be prepared for 2016 to be the year that NetEnt kicks it into another gear and starts gaining a sizable lead against the other companies that share the upper tier of the software sector.