New BitStarz Player Nails EUR 17,000 Win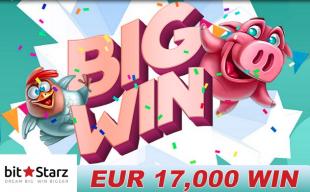 One of the superstitions that many players have is that you need to stick to the same online casino site or the same game over time to eventually be "due" for a big win that you take down. The smart money knows that you're just as likely to nail a big jackpot on your first spin as your 1,000th, and a recent win by a brand new BitStarz player is a great example of this principle in action.
A EUR 17,000 Slot Win
This lucky player started off by making her very first deposit to this online casino. Then she loaded up the high-volatility slot Dead or Alive and started spinning the reels. A little while later, she was EUR 17,000 richer. It doesn't get any easier than that, and this lucky player has already said she has no idea what she's going to do with the money because she didn't expect to win so quickly or so easily. We think a lot of other players would agree if they won as well.
A Cowboy-Themed Experience
Dead or Alive is a game known for its cowboy theme and its high volatility. A high-volatility slot pays out about the same on average as a low-volatility slot in most cases, but the way it pays out is different. With a lower volatility game, your ability to win big jackpots is stunted, but you get more small and medium payouts to make up for it. With a high-volatility game like this, the opposite is true, so you need a play style of going big or going home to get the most out of them. This lucky player was able to go big very quickly.
About BitStarz
BitStarz is an online casino that's known for accepting the bitcoin payment option. It also has games from several software providers, so players like this lucky winner are able to jump right into the middle of a wide range of games after making their initial deposit. With plenty of promotions and special offers available for new players and established ones alike, this is a great site to play at for anyone who likes a chance to become a major winner.