Genesis Gaming Online Slots
With so many online slots in the world to play, we often times catch developers copying others ideas in order to boost their gaming library. Genesis Gaming is not one of those groups that we can accuse of this. The company has some of the most unique games you will ever lay your eyes on, and the betting world is better because of it. Using their expansive land based library to compliment their online offerings, Genesis Gaming often licenses out its games to larger betting companies such as Microgaming, who rolls out the titles on their Quickfire platform. This means that you are very likely to come across a Genesis title when you browse your favorite online casino.
The Games
Genesis Gaming slots are very fun and entertaining, comprising of great graphics, deep features, and themes that will make you laugh out loud. Games range from the extremely lighthearted Carnival Royale, to the dark and sinister Alaxe in Zombieland. Along the way you will also find hilarious titles like Hells Grannies, whimsical fantasy based games like The Lost Princess Anastasia, and nature themed selections like White Buffalo. Even though the themes are wide ranging, the games are all excellent, and contain extra features such as Free Spins, Wild Symbols, Scatter Symbols, and Pick-em Games.
There are no jackpots to be found inside Genesis Gaming titles, but players have recorded impressive wins when they get on a hot streak. This means that big wins can be potentially spread out, instead of hitting one giant win in a 1:1,000,000 shot.
Are you looking to try out some Genesis Gaming titles before signing up at an online casino and depositing? Casino Slots offers many of their hottest titles for free play below, which can be played in your browser and without registering. If you end up liking the game you are playing, we can recommend some excellent spots for you to play at such as: ComeOn!, Redbet and Slots.lv.
| Slot Name | Rate | Software Name | Theme | Reel | Type |
| --- | --- | --- | --- | --- | --- |
| | 4.0 /5 | Genesis Gaming | | 5 | Video |
| | 3.0 /5 | Genesis Gaming | Nature, Weather | 5 | Video |
| | 3.0 /5 | Genesis Gaming | Egyptian | 10 | Video |
| | 3.0 /5 | Genesis Gaming | Chinese | 3 | Video |
| | 3.0 /5 | Genesis Gaming | Animals, Cars | 5 | Video |
| | 2.8 /5 | Genesis Gaming | | 5 | Video |
| | 2.8 /5 | Genesis Gaming | | 5 | Video |
| | 2.3 /5 | Genesis Gaming | Animals | 5 | Video |
| | - | Genesis Gaming | | 5 | Video |
| | - | Genesis Gaming | | 5 | Video |
| | - | Genesis Gaming | | 5 | Video |
| | - | Genesis Gaming | | 5 | Video |
| | - | Genesis Gaming | | 5 | Video |
| | - | Genesis Gaming | | 5 | Video |
| | - | Genesis Gaming | | 5 | Video |
| | - | Genesis Gaming | Animals, Wildlife, Winter | 5 | Video |
| | - | Genesis Gaming | | 5 | Video |
| | - | Genesis Gaming | | 5 | Video |
| | - | Genesis Gaming | Horror, Halloween, Zombies | 5 | Video |
| | - | Genesis Gaming | | 5 | Video |
| | - | Genesis Gaming | | 5 | Video |
| | - | Genesis Gaming | | 5 | Video |
| | - | Genesis Gaming | Horror, Halloween, Zombies | 5 | Video |
| | - | Genesis Gaming | Lifestyle, Music | 5 | Video |
| | - | Genesis Gaming | Fantasy, Medieval, Magic | 5 | Video |
| | - | Genesis Gaming | Greek | 5 | Video |
| | - | Genesis Gaming | Fairy Tale | 5 | Video |
| | - | Genesis Gaming | Food, Chinese | 5 | Video |
| | - | Genesis Gaming | | 5 | Video |
| | - | Genesis Gaming | Superheroes | 5 | Video |
Hells Grannies
Rated 4 /5
Today's Weather
Rated 3 /5
Temple of Luxor
Rated 3 /5
Fafafa XL
Rated 3 /5
Crosstown Chicken
Rated 3 /5
Booty Time
Rated 2.8 /5
Orion
Rated 2.8 /5
Birds and Blooms
Rated 2.3 /5
The Lost Princess Anastasia
-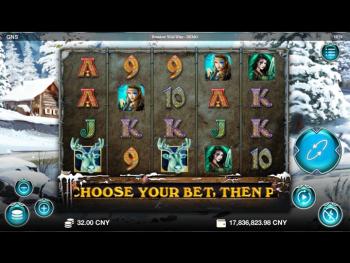 The Forgotten Land of Lemuria
-
Mount Olympus - The Revenge of Medusa
-
There are

45

slots remaining