NeoGames Online Slots
Although it is primarily known around the world for its online scratch cards and lottery titles, NeoGames has also developed quite the following for its selection of online casino games. Operating in regulated jurisdictions such as Denmark, Italy, and Belgium and holding licensing from Alderney and Malta, NeoGames is a reputable software firm.
Their Games
It would be a mistake to say that their iGaming library is the largest in the world, but is certainly not the smallest either. The company currently has about 40 slots on offer and those titles range from classic three reel titles to complex multi-payline games that offer deep features for punters. You won't find any licensed online betting titles from Neogames, but will instead find a library completely designed from the great minds working inside the company. These titles are a ton of fun and have themes that range from nature (Atlantis) to Medieval Times (Castle Slot) to the zany (Circus Mania) and fantasy (Outer Slot). You won't find any progressive jackpots, but you can still win hefty amounts thanks in part to the deep features that the slots feature, which include Free Spins, Wild Symbols, Scatter Symbols,and Pick?em Bonus Rounds. These features seem to pop up every so often and boost your chances of walking away a winner.
Are you looking to try some of their titles before registering and depositing at an online casino? If so, look no further. We have done our absolute best to offer a directory of options. You will find these titles available for free play below and each title loads quickly in your browser and requires no deposit to play. If after playing these games you decide you want to try your luck with real money, operators offering the games include: Lucky Nugget and Gaming Club.
| Slot Name | Rate | Software Name | Theme | Reel | Type |
| --- | --- | --- | --- | --- | --- |
| | 3.3 /5 | NeoGames | | 3 | Video |
| | 2.5 /5 | NeoGames | | 5 | Video |
| | 0.5 /5 | NeoGames | | 3 | Video |
| | - | NeoGames | | 5 | Video |
| | - | NeoGames | | 5 | Video |
| | - | NeoGames | | 5 | Video |
| | - | NeoGames | | 3 | Video |
| | - | NeoGames | | 5 | Video |
| | - | NeoGames | | 5 | Video |
| | - | NeoGames | | 3 | Video |
| | - | NeoGames | | 3 | Video |
| | - | NeoGames | | 5 | Video |
| | - | NeoGames | | 3 | Video |
| | - | NeoGames | | 5 | Video |
| | - | NeoGames | | 3 | Video |
| | - | NeoGames | | 5 | Video |
| | - | NeoGames | | 5 | Video |
| | - | NeoGames | | 3 | Video |
| | - | NeoGames | | 5 | Video |
| | - | NeoGames | | 3 | Video |
| | - | NeoGames | | 3 | Video |
| | - | NeoGames | | 3 | Video |
| | - | NeoGames | | 3 | Video |
| | - | NeoGames | | 3 | Video |
| | - | NeoGames | | 3 | Video |
| | - | NeoGames | | 3 | Video |
| | - | NeoGames | | 3 | Video |
| | - | NeoGames | | 3 | Video |
| | - | NeoGames | | 3 | Video |
| | - | NeoGames | | 3 | Video |
Circus Mania
Rated 3.3 /5
Auto Show
Rated 2.5 /5
Pub House
Rated 0.5 /5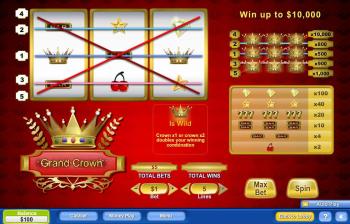 There are

7

slots remaining