NextGen Online Slots
NextGen Gaming may not be as well known to you as other software developers such as Microgaming and Real Time Gaming; however, this could be because they market their games in the B2B space. This means that other software companies often offer their games as part of their software package. You, therefore, may have played one or more of their games before and just not have known it.
The company believes in giving their artists leeway to express their creativity when it comes to designing their games. However, they also have a Game Innovation Team, whose sole job is to think up new and exciting ways that they can enhance their players' playing experience through; enhanced graphics, sound effects, music, and/or features. In fact, they have been credited with creating their; Slide a Wild, Super Bet, Select-a-Play, DynaReel and Up Wild features.
They believe that maintaining a balance between innovation and established fundamentals, is what makes their games work successfully.
At the time of writing they only create video slot games with over 40 different game titles under their belts. Each game that they have developed has its own individual theme that is expressed using their graphics and sound effects. The graphics in their games are not as advanced as some other software providers; however, they are still a pleasure to play.
More of their games are now becoming available to play on the go using your smartphone or tablets. However, they are currently only available from Apple's App store, meaning you have to be an Apple gadget lover to be able to play.
On average, their video slot games have a payout percentage between 95% and 99%. You can usually find each of the games payout percentage by checking its pay table or help page.
Related Articles
| Slot Name | Rate | Software Name | Theme | Reel | Type |
| --- | --- | --- | --- | --- | --- |
| | 4.5 /5 | NextGen | Cute and Fluffy, Sweets | 5 | Video |
| | 4.3 /5 | NextGen | Medieval | 5 | Video |
| | 4.0 /5 | NextGen | Asian, Dragons | 5 | Video |
| | 4.0 /5 | NextGen | | 5 | Video |
| | 4.0 /5 | NextGen | Food | 5 | Video |
| | 4.0 /5 | NextGen | Egyptian | 5 | Video |
| | 4.0 /5 | NextGen | Animals, Wildlife, Jungle | 5 | Video |
| | 4.0 /5 | NextGen | Space | 5 | Video |
| | 4.0 /5 | NextGen | Animals, Wildlife, Fantasy | 5 | Video |
| | 3.7 /5 | NextGen | | 5 | Video |
| | 3.6 /5 | NextGen | | 5 | Video |
| | 3.5 /5 | NextGen | | 5 | Video |
| | 3.5 /5 | NextGen | | 5 | Video |
| | 3.5 /5 | NextGen | Aquatic, Fairy Tale | 5 | Video |
| | 3.5 /5 | NextGen | | 5 | Video |
| | 3.5 /5 | NextGen | Asian | 5 | Video |
| | 3.5 /5 | NextGen | Asian, Fantasy, Chinese | 5 | Video |
| | 3.3 /5 | NextGen | Party | 5 | Video |
| | 3.0 /5 | NextGen | | 5 | Video |
| | 3.0 /5 | NextGen | | 5 | Video |
| | 3.0 /5 | NextGen | | 3 | Classic |
| | 3.0 /5 | NextGen | | 5 | Video |
| | 3.0 /5 | NextGen | Animals, Wildlife | 5 | Video |
| | 3.0 /5 | NextGen | Mystical | 6 | Video |
| | 2.5 /5 | NextGen | | 5 | Video |
| | 2.5 /5 | NextGen | Movies, Action, Superheroes, Comics | 5 | Video |
| | 2.5 /5 | NextGen | Nature, Jungle | 5 | Video |
| | 2.5 /5 | NextGen | Movies, Horror | 5 | Video |
| | 2.5 /5 | NextGen | Movies | 5 | Video |
| | 2.0 /5 | NextGen | | 5 | Video |
Teddy Bears Picnic
Rated 4.5 /5
5 Knights
Rated 4.3 /5
Eastern Dragon
Rated 4 /5
Forrest Gump
Rated 4 /5
Pizza Prize
Rated 4 /5
Ramesses Riches
Rated 4 /5
Gorilla Go Wild
Rated 4 /5
Starmania
Rated 4 /5
Great Wild Elk
Rated 4 /5
Area 21
Rated 3.7 /5
Iron Man
Rated 3.6 /5
300 Shields
Rated 3.5 /5
Andre the Giant
Rated 3.5 /5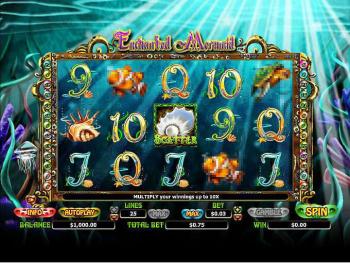 Enchanted Mermaid
Rated 3.5 /5
Hot Hot Volcano
Rated 3.5 /5
Thai Sunrise
Rated 3.5 /5
Xing Guardian
Rated 3.5 /5
Spanish Eyes
Rated 3.3 /5
Barnyard Boogie
Rated 3 /5
Maid o Money
Rated 3 /5
Rags to Riches
Rated 3 /5
The Bermuda Mysteries
Rated 3 /5
Wolfpack Pays
Rated 3 /5
The Demon Code
Rated 3 /5
20.000 Leagues
Rated 2.5 /5
Judge Dredd
Rated 2.5 /5
Volcano Eruption
Rated 2.5 /5
Psycho
Rated 2.5 /5
The Mask
Rated 2.5 /5
Outta Space Adventure
Rated 2 /5
There are

166

slots remaining