PG Soft Online Slots
PG Soft is heavily concentrated in producing mobile slots that come with all the tricks and treats of modern video games. This is especially true when it comes to things like features, graphics and sounds. They have a very busy publishing schedule, yet none of their slots feels rushed out.
The company has been operational since 2016. They hold a Maltese and a UK Gambing Commission license, and on top of this, the games are tested by bmm testlabs and Gaming Associates. Quality is high but are the games interesting enough to play? We think so, and after reading the information below you might think so too.
Mythical treasures, jackpots, bounties and high variance
One of the major reasons why Pocket Games slots have gained popularity so quickly are the big wins. This is the world of slots after all, and all sorts of jackpots and massive prizes are always in high demand. This is quite evident from the slot titles as well: Mythical Treasure Jackpot, Captain's Bounty, Journey to the Wealth, and so on.
A lot of the games feature high volatility, but quite a few manage to get by with medium as well. Still, these same games might offer single round wins that go as high as 30 000 times the bet. Some of this is explained by the high RTP, the rest by design choices and bonus features.
Made especially for mobile devices
When most game developers say made for mobiles, they mean made with HTML 5, which means that the game runs on any device that has a modern web browser(such as Chrome). Open up any PG Soft slot game and you will immediately understand what mobile design truly means. Still, they haven't made away with things like 3D graphics. Rather, these are simply made to fit all the devices.
The interface is one of a kind and gives easy access with controls designed directly for smartphones and tablets. This courtesy extends to the way the games play, and how the special features and other elements are built into the game. You can play these games on a desktop computer. The only reason to do that would be if you are one of the rare beings who don't own a smartphone.
Inspiration from Asia and elsewhere
Nearly half of the titles seem to draw their source material from Asian influences. Mostly this shows up as different sorts of topics concerning wealth, fortune, good luck and festivities. Some of the graphics on other slots are likewise influenced. The remaining titles use a wide variety of themes, often featuring animals or in connection with different holidays. It's quite a decent mix, and chances are there's something in there that you haven't experienced yet.
The company has also produced a handful of table games in their own, unique style. Blackjack, Baccarat and Joker Wild all offer the usual gameplay, perhaps with a twist or two. If you are after high return to player games, then some of these almost reach 99%. Overall, Pocket Games offers exciting moments with enticing and entertaining mobile games!
| Slot Name | Rate | Software Name | Theme | Reel | Type |
| --- | --- | --- | --- | --- | --- |
| | 4.0 /5 | Pocket Games Soft | Asian, Food | 5 | Video |
| | 3.5 /5 | Pocket Games Soft | Animals, Fruit | 7 | Video |
| | 3.3 /5 | Pocket Games Soft | Asian | 7 | Video |
| | 3.3 /5 | Pocket Games Soft | Chinese | 3 | Video |
| | 3.0 /5 | Pocket Games Soft | Aquatic, Luxury | 5 | Video |
| | 3.0 /5 | Pocket Games Soft | Asian, Chinese | 6 | Video |
| | 3.0 /5 | Pocket Games Soft | Asian, Lifestyle, Casino | 6 | Video |
| | 3.0 /5 | Pocket Games Soft | Circus | 5 | Video |
| | 3.0 /5 | Pocket Games Soft | Ice, Fantasy | 6 | Video |
| | 3.0 /5 | Pocket Games Soft | | 6 | Video |
| | 3.0 /5 | Pocket Games Soft | Sweets | 6 | Video |
| | 3.0 /5 | Pocket Games Soft | Gems & Jewels | 5 | Video |
| | 2.9 /5 | Pocket Games Soft | Asian | 5 | Video |
| | 2.5 /5 | Pocket Games Soft | Animals, Asian, Chinese | 5 | Video |
| | 1.0 /5 | Pocket Games Soft | Asian, Chinese | 5 | Video |
| | - | Pocket Games Soft | Adventure, Egyptian | 6 | Video |
| | - | Pocket Games Soft | Animals, Cartoon | 5 | Video |
| | - | Pocket Games Soft | Animals, Cartoon | 3 | Video |
| | - | Pocket Games Soft | Fantasy, Medieval | 5 | Video |
| | - | Pocket Games Soft | Gothic, Music | 5 | Video |
| | - | Pocket Games Soft | Jungle | 5 | Video |
| | - | Pocket Games Soft | Winter, Christmas | 5 | Video |
| | - | Pocket Games Soft | Cute and Fluffy, Dragons | 5 | Video |
| | - | Pocket Games Soft | Asian, Chinese | 5 | Video |
| | - | Pocket Games Soft | Cartoon | 5 | Video |
| | - | Pocket Games Soft | Party, Beach, Drink | 5 | Video |
| | - | Pocket Games Soft | Egyptian, Mystical | 7 | Video |
| | - | Pocket Games Soft | Asian, Magic | 5 | Video |
| | - | Pocket Games Soft | Aquatic, Pirate | 5 | Video |
| | - | Pocket Games Soft | Animals, Asian, Chinese, Dragons | 3 | Video |
Sushi Oishi
Rated 4 /5
Groundhog Harvest
Rated 3.5 /5
Ganesha Fortune
Rated 3.3 /5
Fortune Ox
Rated 3.3 /5
Medusa
Rated 3 /5
Caishen Wins
Rated 3 /5
Dreams of Macau
Rated 3 /5
Circus Delight
Rated 3 /5
Guardians Of Ice And Fire
Rated 3 /5
Raider Jane's Crypt Of Fortune
Rated 3 /5
Candy Bonanza
Rated 3 /5
Majestic Treasures
Rated 3 /5
Emperors Favour
Rated 2.9 /5
Fortune Mouse
Rated 2.5 /5
Mahjong Ways 2
Rated 1 /5
Raider Jane's Crypt Of Fortune
-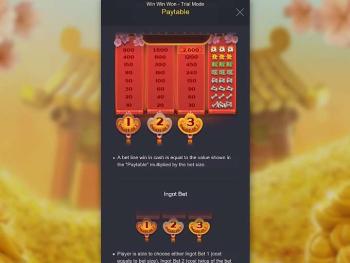 There are

7

slots remaining