Spinmatic Online Slots
Founded in 2017, Spinmatic is one of the rising stars in the world of online casino software, and quite deservedly so. Since day one, these guys were all about innovation and cutting-edge technology, and they are still on a mission to revolutionize the iGaming world.
In 2019, they have signed a deal with CasinoEngine, the world's leading hub for all content related to online casinos, which means that their games will reach an even larger audience than before.
So, how exactly did they manage to build quite a hefty yet loyal fan base over such a short period of time? Let's find out!
User Experience
Did you know that Spinmatic offers full support for multiple languages and currencies? Yes, their games can be customized for specific countries and markets, but that surely isn't the best bit about them. The very instant you load any of their titles, you will be blown away by the juicy graphics and top-notch sound effects.
Quite often there will be animations when you score a win, and the bonus features are really generous. You'd pressed hard not to find a game in their portfolio that drops your jaw right down to the floor.
Slot Themes and Types
Most slots here follow the five reel setup, but there are still a few exceptions to this rule. As far as themes are concerned, it would take the space of several articles like this one to cover them all!
All joking aside, there is an abundance of different themes at hand, from the underwater Poseidon, where you take the role of the god of seas, to the Indiana Jones-inspired Ed Jones And Book of Seth, they really have it all. Even the classic slots are there, but we're sure you will go for their latest video counterparts.
Another great thing about Spinmatic slots is that their games often come with quite a story to tell. Take Book Of Eon as an example, as it involves a couple that gets separated by death, so they have to survive a slew of obstacles in order to get reunited.
There are hundreds of games in the portfolio, so make sure you check them all out.
Graphics, Animations and Special Features
As mentioned earlier, flashy graphics, cool animations, and clever design features are exactly what's contributing to the Spinmatic fan base on a regular daily basis. No matter which game you choose, it's clear that the developers were quite meticulous about each and every little detail.
Such games can only be made by those who love gaming themselves and understand the needs of passionate players out there.
Conclusion
Spinmatic is surely among the top slots providers out there, and it's no wonder since their games are all jam-packed with innovative features, generous bonuses, and top shelf graphics and sound effects. We can't really imagine a contemporary gambler who doesn't have at least one of their games on his favorites list.
| Slot Name | Rate | Software Name | Theme | Reel | Type |
| --- | --- | --- | --- | --- | --- |
| | 4.0 /5 | Spinmatic | Zombies | 5 | Video |
| | 4.0 /5 | Spinmatic | Mexican | 5 | Video |
| | 4.0 /5 | Spinmatic | Animals, Western | 5 | Video |
| | 3.3 /5 | Spinmatic | Asian, Food, Chinese | 3 | Video |
| | 3.0 /5 | Spinmatic | Animals, Asian, Chinese, Country life | 5 | Video |
| | 3.0 /5 | Spinmatic | Superheroes | 5 | Video |
| | 3.0 /5 | Spinmatic | Crime | 5 | Video |
| | 3.0 /5 | Spinmatic | Space, Christmas, Aliens | 5 | Video |
| | - | Spinmatic | Pirate | 5 | Video |
| | - | Spinmatic | Magic, Zombies | 5 | Video |
| | - | Spinmatic | Asian, Chinese | 5 | Video |
| | - | Spinmatic | Space, Action | 5 | Video |
| | - | Spinmatic | Fruit | 5 | Video |
| | - | Spinmatic | Egyptian, Historical | 5 | Video |
| | - | Spinmatic | Mexican | 5 | Video |
| | - | Spinmatic | Animals, Jungle | 5 | Video |
| | - | Spinmatic | Space | 5 | Video |
| | - | Spinmatic | Adventure, Jungle | 5 | Video |
| | - | Spinmatic | Magic, Zombies | 5 | Video |
| | - | Spinmatic | Science | 5 | Video |
| | - | Spinmatic | Animals | 5 | Video |
| | - | Spinmatic | Fruit | 5 | Video |
| | - | Spinmatic | Vegas | 3 | Video |
| | - | Spinmatic | Cops & Robbers | 5 | Video |
| | - | Spinmatic | Animals, Aquatic | 4 | Video |
| | - | Spinmatic | | 5 | Video |
| | - | Spinmatic | Animals, Mining | 5 | Video |
| | - | Spinmatic | Animals | 4 | Video |
| | - | Spinmatic | Fruit | 5 | Video |
| | - | Spinmatic | Greek, Mythology | 5 | Video |
Zomb City
Rated 4 /5
3 Amigos
Rated 4 /5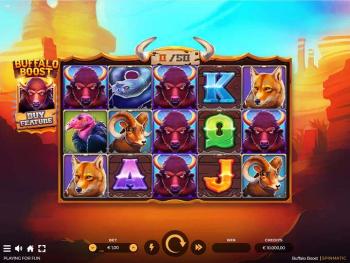 Buffalo Boost
Rated 4 /5
Sushi House
Rated 3.3 /5
Fortune Dynasty
Rated 3 /5
Real Life Superheroes Bonus
Rated 3 /5
Mafioso
Rated 3 /5
Galacnica Xmas
Rated 3 /5
Mr.Hat: Before the Sunrise
-
There are

30

slots remaining