Vela Gaming Online Slots
Malaysia may not be the first country that comes to mind when gambling is concerned, but let us surprise you - over here is a small development studio that hails exactly from Petaling Jaya. They have started off in 2019, but they already creating quite a few ripples in the vast iGaming world.
They are among the leading companies when it comes to providing video slots for mobile gamblers, but they also act as distributors for other software companies, as well.
Aside from the obvious fact that they make different types of video slots, they also provide various other services and products, such as cryptocurrency games, the innovative Guardians Of Slots network, Virtual Cock Fighting, complete back-office solutions, land-based cabinets and game machines, and custom game development. There's so much more to these guys than meets the eye!
The company operates under the Denizen Strategies Group, a brand that's been around ever since 2012.
Which Slot Themes and Features Do They Offer?
Upon closer inspection, it's somewhat easy to tell that the company hails from Asia. There are many games that draw inspiration from the rich heritage and culture, but they also share that distinct knack for colorful design and flashy graphics.
Still, this doesn't mean you won't be able to find the occasional Western-styled and Ancient Egypt-themed game in the portfolio. Almost all of the games come with rather high volatility.
Let us take a look at these little gems, shall we?
The Games
Vela Gaming has released about two dozen games so far, and here they are:
Fortune Bowl - As you can see, there are quite a few games inspired by the Chinese fortune culture, and this is among the most popular ones from the whole bunch. It comes loaded with extra spins and multipliers. There are 5 reels and 1024 paylines!
Fortune Beast - The Fortune Beast lives deep in the jungle, and awaits for you to discover it! This is yet another fortune-themed game with clever animations and vivid graphics, and it allows for up to 6 different bonus games that can reward you with massive wins.
Fortune Wheel - Themed after one of the oldest ways of gambling and scoring prizes, this one comes in full HD and offers wild symbols that act as multipliers when you land them during the extra spins.
Zombie VS Dao Zhang - This one is about the battle between the Chinese hopping zombie and Dao Zhang. You will be pressed hard to find animations as cool as these over here.
Kakiemon - In case you didn't know, Kakiemon is actually a specific type of Chinese porcelain, and they've themed the game after it. Still, they've made it work somehow, and to put it simply, it's loads of fun.
Shan Hai Jing - Over here we have a classic Asian-themed slot that comes filled with some amazing monsters of Shan Hai Hing. Colors galore!
Paradise Of Shambala - The Paradise of Shambala is located deep inside a jungle, and it hides many goodies, rewards, and winnings, so you should just hang on tight and go get them all!
Otaku's Heaven - Otaku's Heaven obviously draws a lot of inspiration from the world of Anime, so if that's your thing, you will surely like this one a lot.
Fortune Dragon - Yes, continuing the fortune theme, they've simply had to include one based on dragons, because we can never get tired of dragons.
Wealth Palace - This is a 30-payline video slot that takes you deep inside a palace jam-packed with all different sorts of wealth. Some you will win, some you will lose!
Queen Pirate - Are you ready to take on the Queen of pirates? Not only does she look gorgeous, but she also has plenty of treasures to be stolen! Ahoy, mates!
The Witch Must Be Crazy - No portfolio would be complete without a game based on Halloween, so this one comes with skulls, spells, potions, and pumpkins.
The Belt And Road - Symbolizing the prosperity and growth, this one takes you on a journey that might bring you many prizes and goodies.
Princess Of Angkor Wat - Pretty much self-explanatory, this one is simply too gorgeous for its own good, so if you have a thing for exotic royalties, it might just be right up your alley!
Northern Snow - Clearly inspired by the Frozen movie franchise, this one is meant for all those who like the wintertime and the snow. Just make sure you don't catch a cold!
The Museum - This one takes you inside a museum and its magical world of antiques and artifacts.
Hyakki Yakou - Another Anime-inspired title, it tells a story of a legendary fighter whose name we can't really pronounce, but it didn't stop us from enjoying the game thoroughly.
City Of Gold - Gold, gold, and even more gold! This place really exists, and it waits for you to come and score some colossal wins!
The Pharaoh & Legends - Have you ever seen a game developer portfolio without a game that dates back to the times of Ancient Egypt?
There is another group of games that are strictly HTML5-based and therefore meant for mobile devices. This little palette contains titles such as Penalty King: Ultimate Shootout, Dingdong, Baseball Fever, Basketball Fever, Soccer Fever, Pokemon Run, Monkey Story Plus, Monkey Story, European Roulette, American Blackjack, Dragon Tiger, Baccarat Deluxe, Monkey Race, Horse Racing, Safari Hunter, Blue Ocean, and Birds Of Paradise.
Conclusion
With so much going on at the same time, it is really hard to pinpoint what the guys at Vela Gaming do best. From land-based to online casinos, they seem to have it all, covering various technologies and product packages.
They have already conquered the Asian market, but it seems they are really hungry for more, so it seems that we'll be seeing a multitude of their products all across the world. Keep an eye open for these guys, they are going to be big!
| Slot Name | Rate | Software Name | Theme | Reel | Type |
| --- | --- | --- | --- | --- | --- |
| | 4.0 /5 | Vela Gaming | Asian, Halloween, Chinese, Zombies | 5 | Video |
| | 3.0 /5 | Vela Gaming | Horror, Halloween | 5 | Video |
| | - | Vela Gaming | Asian, Cartoon, Chinese | 5 | Video |
| | - | Vela Gaming | Asian | 5 | Video |
Zombie Vs Dao Zhang
Rated 4 /5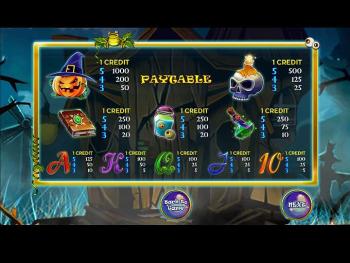 The Witch Must Be Crazy
Rated 3 /5