Vibra Gaming Online Slots
Vibra Gaming is a rebranded name, and making high-quality products is its game. This Argentina-based provider is a leading supplier of the outstanding slots for Latin America which is its targeted market.
Is quality better than quantity? On the contrary to popular belief the huge selection of games isn't the key to success. In fact, in some cases, it can be a disadvantage. Delivering slots which stand out with their quality and gameplay is a much better option.
This developer focuses on making original titles that are breaking the industry standards. Because it values quality over the quantity, the result is outstanding releases that entice both online operators and players.
Small, yet outstanding portfolio
Sometimes, the best things come in small packages. Looking at the portfolio of this provider we can say there's truth to this saying. It doesn't stretch for miles but it offers all the diversity that you many times can't find even in the biggest game lobbies.
While the developer only has 7 slots and 4 bingo games under its belt so far...
…they come with a punch, providing hours of high-quality entertainment. Enriched with outstanding graphics and original themes, these video slots come with different special features, grid setups, paylines and volatility levels, making them appealing to all types of players.
The studio's portfolio includes the following releases:
Quake
Halloween
Amazonia Fantasy
Make A Wish
Fruity 7
Codex
High rollers will have a field day with Codex Jackpot that comes with an interesting and one-of-a-kind design concept and a winning potential of up to 1,062x the bet. As the name of the game says it, there is also a possibility of hitting an enticing jackpot.
When it comes to special features...
…this provider is implementing and stacked and sticky wilds, trail bonus features, Mega symbols, extra spin rounds and many more. While some features do repeat from slot to slot, in every release they have at least one unique modificatory.
In its statement about rebranding platform, the provider disclosed plans for launching many more slot and bingo releases in the recent future. When you go to its official sites, you will see the titles Popeye Slots and The Phantom with the label Coming Soon at the moment.
A Range Of Diverse Themes
Maybe the best thing about the provider's portfolio...
...along with special rounds and bonuses, is that is covering all kinds of different themes and concepts. If you are up for a steampunk rendition images, Codex Jackpot got you covered. When you want a bit of fantasy in your life, Make a Wish slot takes you deep into the culture around fortune teller carnival games. For all those classic slots lovers, there are also releases that will give you that old-school feeling.
It's not so usual to see such a variety of themes and a wide range of different types of motifs used in games in a portfolio of one provider, especially one of this size. It is a clear example of how quality beats quantity.
Vibra Gaming Slots Are Original, Engaging And Mobile-Friendly
If you're looking for exciting and engaging slots with original themes and images, then point a spotlight on the releases by this provider. They certainly deserve it because what they lack in numbers, they make up with the top-quality gameplay.
That doesn't change when you want to have fun on ago since all the releases are available on all mobile devices in all their glory. While this is one of the requirements players look these days from modern games, not all providers are up-to-date with optimizing all of their titles. Especially the ones that offers a huge selection of releases, so this is another advantage of the smaller portfolio.
Vibra Gaming slots are tailored from the user's point of view, which makes them so attractive to both punters and operators. While others can brag with quantity, this provider can proudly claim that each one of its releases provides unique, thrilling and engaging gaming experience. At the end of the day, this means the most. it is always better to have a few outstanding titles rather than numerous mediocre ones, and this developer's portfolio is the best proof.
| Slot Name | Rate | Software Name | Theme | Reel | Type |
| --- | --- | --- | --- | --- | --- |
| | 4.0 /5 | Vibra Gaming | Irish | 5 | Video |
| | 3.3 /5 | Vibra Gaming | | 5 | Video |
| | 3.0 /5 | Vibra Gaming | Circus, Joker | 5 | Video |
| | - | Vibra Gaming | Fruit | 5 | Video |
| | - | Vibra Gaming | Arabian, Mystical | 5 | Video |
| | - | Vibra Gaming | Animals, Nature | 5 | Video |
| | - | Vibra Gaming | Action | 5 | Video |
| | - | Vibra Gaming | Renaissance | 5 | Video |
| | - | Vibra Gaming | Adventure, Jungle | 5 | Video |
| | - | Vibra Gaming | Festivity | 5 | Video |
Clover Fantasy
Rated 4 /5
Codex
Rated 3.3 /5
Mystic Joker
Rated 3 /5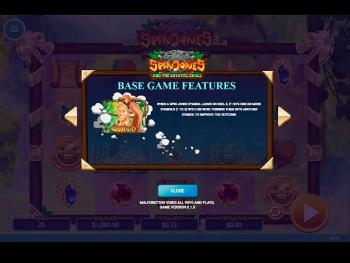 Spin Jones And The Crystal Skull
-