A Slot Game That Has Powers of Shapeshifting
Online slot makers seem never to run out of creativity and just when players think they've seen it all, software providers come up with one more brilliant idea that gives a new dimension to the world's most popular pastime. If you have ever dreamed of a game that keeps changing to create an elated festive mood for every holiday you celebrate, then your dream has finally come true – in the form of a shapeshifter slot!
Launched in the middle of December by BGaming, Fruit Million became an instant smash hit across web-based casinos, attracting both newbies and seasoned pros. Let's take a closer look at this unique spinning adventure to find out what's all the buzz about!
What Is A Shapeshifter Online Slot?
It's safe to say that a shapeshifter slot is a kind of chameleon that changes its skin to match the environment. However, in contrast to the funny slow-moving lizard, this online game doesn't aim to hide from enemies but to help players plunge into the festive spirit of their most beloved holidays.
The concept was introduced in December 2020 when BGaming (a SOFTSWISS brand officially founded two years ago) launched Fruit Million enhanced with a 5x4 grid, 100 pay lines, and an impressive set of extra features. Quite understandably, the very first "skin" of this juicy extravaganza was inspired by Christmas, letting punters feel the vibes of the best time of the year.
However, already in January, the slot returned to its standard look bursting of fruits, diamonds, horseshoes, and four-leaf clovers, but not for long. Soon, it'll celebrate St. Valentine's Day and we can't wait to see the romantic edition! To make things even better, this first-ever shapeshifter will change its "skin" to every big day of the year whether it's Easter, Halloween, St Patrick's Day, Oktoberfest, or another holiday.
According to people from BGaming, Fruit Million is going to amaze slot buffs with at least six different looks throughout the year, which makes it a great game to play all year-round. Of course, this virtual one-armed bandit offers more than just a diversity of "skins" or otherwise, it wouldn't have become such a big success, so read on to find the details.
Millions Of Chances To Win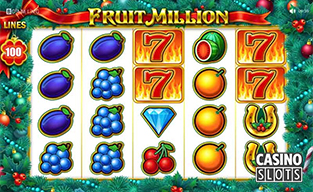 Designed in a traditional style, Fruit Million has a 5x4 layout with enough space for 100 pay lines and all the scrumptious fruits and famous lucky charms. This online slot offers a great combination of medium-high volatility and a generous RTP of 97.1%, which makes it an attractive option for players of styles and gambling preferences.
When you add the betting range that starts at just $0.20 and ends already at $15, you get an online slot that easily fits the description of an ideal spinning adventure. But that's not all because this exciting story has some thrilling twists and turns that come in the shape of stacked icons and expanding wilds intended to generate truly epic wins – of up to 3000x total bet at a single spin!
The game has two scatters that pay regardless of pay lines but nothing compares to lucky red sevens that deliver a hefty 3000x line bet when five-of-a-kind appear on the winning line. The gamble feature is also part of the plot, providing additional chances to double or quadruple your prize by guessing the color or the suit of a face-down playing card.