Learning the Similarities and Differences between InfiniReels and Infinity Reels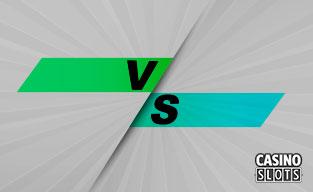 To remain original and unique is the Herculean task when being a part of the highly competitive iGaming industry, because hey- who wouldn't want to implement the same formula that made the opponent so successful?
But, what happens when one cannot determine which creative factory was the first to deliver cutting edge mechanics? NetEnt and ReelPlay's innovative features look so similar, even in their name, but there's much more to this than it meets the eyes?
In which way do InfiniReels And Infinity Reels resemble?
The thing in common is that both of them are based on a similar concept-the reels expand sideways as a symbol lands. This is where the similarity ends, as these features not only have gameplay that is unique to each series but award the additional reel in an entirely different way.
So, before spinning the reels to see how it actually works in a game, stay tuned to learn more about these great concepts!
Making Parallels between InfiniReels And Infinity Reels
As we said, this in-game mechanics is triggered when a winning combo appears, and as a result, a new reel to the grid is added. That's where these two differ and let's see in which way.
In ReelPlay's InfinityReels concept…
…each spin provides the chance to add an extra reel, re-spin, and multiplier. Calling it a "land of almost unlimited opportunity", each round brings something, but it's not necessarily an extra reel.
Here, a new reel is added to the right each time a win with matching symbols appears on all existing reels, including the last one. It takes 5 symbols to create a winning combo anywhere across the grid, whose initial size is 3x4. Each new reel also adds to the multiplier.
As for NetEnt's Infinireels mechanics…
…the extra reel is added to the right when a combo contains a Wild or another matching symbol (minimum 3 of them are needed across the reels for a rewarding combo). This continues until no new winning symbols land and that's when the reels revert to their original size.
Besides the powerful mechanic, there's a wide assortment of other features such as wilds, re-spins, Multi-Slams, complimentary rounds, and retriggers. The initially displayed grid is 3x3.
Who Was the Inventor of THESE Reels?
The first title equipped with this feature which was officially launched was ReelPlay 's El Dorado InfinityReels in November 2019. This debut creation got another companion with the same mechanics in April 2020, Giza InfinityReels. As announced, June 2020 will bring another addition to the collection, dubbed Odin InfinityReels.
Against this background NetEnt's debut release with this concept is scheduled for May 14, 2020, named Gods of Gold InfiniReels. So, technically speaking, the Swedish producer hasn't yet introduced its product with this mechanics.
The case looks clear but if we analyze a bit deeper, new questions arise. Having in mind that game development is a time-consuming process, the real question would be, who was the first studio to begin working on this Infini/Infinity concept at all?
Even though that cannot be confirmed and we can only assume somewhere in 2018, what we know is that NetEnt registered its trademark feature in September 2019. That's three months before the competitor rolled out its first release packed with inventive mechanics. For more on this read LCB's exclusive interview here.
Strategic Partnership to Protect the Franchises
With so many similar properties, it remains a bit mysterious which company was the first one to invent these powerful mechanics and did the other stole the idea.
Instead of a more or less expected scenario…
…in which company A accuses company B of IP or trademark infringement, the outcome here is a strategic agreement between NetEnt and ReelPlay, inked so that both companies could protect the respective rights.
What are the details of the deal?
As stressed out in the official PR coming from both sides, they were "independently following similar ideas", which is why they find it quite suitable to join forces.
Together they will be able to reinforce the unique propositions and place their product(s) much better on markets globe-wide. Moreover, it will secure the continuous launch of top-quality gaming products to a wide spectrum of operators both parties cooperate with.
Isn't the Conciliatory Atmosphere between Studios a bit Awkward?
As a matter of fact, it is, particularly the part in which an official from NetEnt declares the following:
"I would like to commend and thank ReelPlay for their innovative approach and for working together with us in these dynamic times."
Apart from the minor differences…
…both mechanics are eerily similar, and the community more or less expected a legal process initiated by the gigantic studio. Why do we say so? Because the premium Swedish supplier is already famous for raising complaints against developers when they suspect the content is copied.
The unfortunate case of Play'N GO's Starblast is one such example, as NetEnt believed it was a copy of their legendary Starburst slot. Even though the space-bound title was announced and available on the provider's official site, it "suddenly" went M.I.A. only to appear later under a different name- Crystal Sun.
On the other hand…
…NetEnt's allegedly original super hit Starburst is a doppelganger of Novomatic's PowerStars. So it would be kinda hypocritical to press some charges against ReelPlay if even NetEnt itself has a history of copycatting.
Final Thoughts
The entire situation resembles a bit the greatest mystery of all times "Which came first, the chicken or the egg?" Though it's hard to determine which of these two studios is the chicken and which one is the egg in question, things have ended up in the best way possible, from the legal point of view.
"Imitation is the sincerest form of flattery."…
… at least if we are to trust Oscar Wilde, one of the greatest playwrights of the Victorian Era. And yet, it's difficult to make out who is supposed to feel flattered in this story. In the end, everything seems to be at its place, so no need to deepen discussion further.
InfiniReels or Infinity Reels, whichever mechanics is used doesn't matter, as long as it adds more value to the overall quality of the game. And, that's, without any doubt, a key ingredient both studios ALREADY have in their wealthy portfolios.