Spinstars Software
Spinstars is a Gibraltar-based studio that makes truly unique online slots. Founded in 2019, this up-and-coming software provider draws on vast industry experience and the rich expertise of its team members, striving to create state-of-the-art classic games.
Yes, you read it correctly – people behind this brand have managed to take the concept of an old good 3-reeler to the next level, offering a one-of-its-kind portfolio of incredibly realistic yet fantastically mesmerizing fruit machines. In brief, they've built the most sophisticated version of a traditional Vegas-style cabinet and enhanced it with captivating stories, additional reel sets, and plenty of engaging extra features. For more detail, read on to learn everything about the company and its way to success.
Sorry, there are no casinos by Spinstars available in your country. Try
these casinos
instead.
Strategic Alliance With Microgaming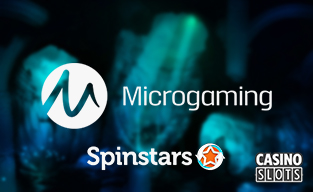 Similar to a great many newbies on the highly competitive iGaming scene, Spinstars gained the attention of the international community as the partner of Microgaming. It happened in September 2021 when the renowned Father of Slots penned an exclusive deal to welcome a new star on its ground-breaking aggregation platform.
The Isle-of-Man giant recognized the studio's tremendous potential and ability to bring even more diversity to its already vast offering of casino content. What's more, the partnership couldn't be more timely given Microgaming's run-up to entering the Dutch regulated market. It's no secret that punters in the Netherlands still give preference to classic slots, as well as players in Germany, Belgium, and some other countries.
By the way, the very first partner of Spinstars was Malta-headquartered Dazzletag Entertainment who operates a number of online casinos and bingo sites. The agreement was signed in 2020, letting the subject of this review join a decent squad of tier-tier providers, including NetEnt, Big Time Gaming, and Yggdrasil, to cite just a few. The deal delivered significant growth and a far broader audience of gamblers, however, it was not enough to become an A-class celebrity. Well, the partnership with Microgaming got the job done, therefore its importance is really hard to overestimate.
Highly Interactive Classic Online Slots
According to people from Spinstars, a typical slot machine is actually far more interactive than its video counterpart. As incredible as it may sound, this statement is true – at least, in the case of 3-reelers made by this software provider. Indeed, the fact that punters can choose between multiple game modes, hold the reels for the next round, and even play an active role in determining the outcome of the spin, makes the whole plot extremely exciting.
The brand takes pride in the superb visuals of its products but at the same time adds that premium graphics alone are not enough, they should be supported by matching gameplay. It's hard not to agree but if you still have any doubts, check out Spinstars' portfolio of online slots to get convinced that timeless 3 reels can be way past immersive, especially when they also have solid winning potential. Needless to say, all the titles perform superbly on mobile devices and are really fast to load, letting players tap into the wonderful world of gaming anytime and anywhere.
Useful Links