Asgardian Stones Slot Release by Net Entertainment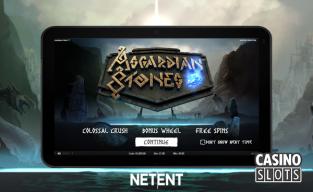 Innovation is the name of the game when you're playing with Net Entertainment. Because they have such an incredible focus on quality over quantity, in spite of having a fairlye extensive portfolio at this point, each one of their new releases has something fresh about it that makes it stand out. That's the case with their latest release as well, and it comes in the form of the Asgardian Stones video slot.
What's New in This Game
The new feature that everyone is talking about is the Colossal Crush feature. The way this works is that colossal symbols (symbols that take up multiple spots across multiple reels) can fall down to crush existing symbols and give you better chances of hitting winning combinations. This also increases a multiplier on your winnings, which means even bigger payouts when you do win. These two aspects combine to boost your winnings significantly, which becomes a key focus of the game as a whole.
More About This New Title
Overall, the game has a normal format with five reels, three rows and 20 paylines. It has a theme based on Norse mythology, particularly with the combination of magic and the warrior culture, and the graphics are tremendous as well. Something that may get overlooked is the game's soundtrack, which is definitely solid, and it's something that really helps to set the mood for the game as a whole. With a fun new feature that's an industry first and a great visual appeal, it's easy to see how this could become a major title release in 2018.
Net Entertainment's Momentum
In the industry as a whole, NetEnt is one of the few companies that really sets the tone for what's expected, particularly in the online slots sector. Players always get excited when there's a new release by this company, as is the case with the Asgardian Stones online slot that's been released recently, because they use these new titles to set standards in the industry overall. This makes each new game release more than just something new to play because these titles coming out actually change the direction of the industry in a lot of cases and provide a basis for how other companies direct their titles and overall development.
Sources
Press Release, NetEnt's Asgardian Stones to Immerse Players in Mythical Quest netent.com, February 22, 2018