Boomerang Studios Online Slots
Desperate times call for desperate measures, and it becomes rather hard to discern the rather innovative software companies from those that simply float in the sea of mediocrity.
There are so many new software studios, it's getting really hard to keep track of them all, but over here we do have one that's definitely worthy of your attention and your time.
How come?
Well…
…we're talking about a small software company that goes by the name of Boomerang Studios. These guys have opened their virtual doors in 2018, but they've somehow managed to accomplish so much over a relatively short time span.
The company was started by several industry professionals who share a combined experience of many years in the iGaming sphere. These folks are graced with exceptional skills which, when combined with precious experience in game development for both land-based and online betting venues, speak volumes of their extraordinary abilities.
Another important aspect of how these guys handle things lies in the fact that they tend to sign many lucrative deals, so their titles get added to various prestigious content distribution programs, such as Relax Gaming. Such deals with operators and content aggregators mean a lot to smaller developers, as they make it possible for the games to reach many new players all around the world.
All things considered, the good folks at Boomerang Studios stand behind over 20 different math and software packages, and their modest but diverse selection of games keeps growing at a steady pace.
Themes and Special Features
At first, these games may not come off as some mind blowing stuff, but once you take some time and dig in a little deeper you will soon find that all of them are innovative little gems.
If you visit the official website, you'll notice that the design isn't exactly something to write home about, but you'll soon be relieved to find out that the games have been designed by another design team. All of the games can be characterized by amazing 3D graphics and some rather cool additional features.
Even though the modest portfolio features only six games, they offer a diverse array of themes and subjects, so there's something for everyone here.
What Kind Of Slots Do They Offer?
Even though the company has many years of experience in the development of scratchcards and jackpot products, our main focus here is on their video slots. They can cater to any specific market, and all games can be customized to fit different currencies and languages.
All the games in the portfolio carry a very compact and lightweight footprint, and, considering the fact that they've been made by using the latest HTML5 technology, they can be enjoyed on the widest range of mobile and desktop devices.
Let's take a closer look at each game, shall we?
Wild Esqueleto - Over here we have a video slot that comes with connected paylines, which means that it actually pays out when your symbols get connected. While we're on the subject of paylines, there are 178 of them, and they are spread over a classic 4x5 layout. It's worth pointing out that wild symbols work in conjunction with the free game feature, and there are also jackpots to be scored.
Dragon Carnival - No portfolio would be complete without a game that's inspired by the rich Asian cultural heritage, and in most cases, this involves some sort of dragon. Make no mistake, this one here is about a carnival of dragons, but what's even more important, there are no less than 432 paylines spread across the reels. If you happen to trigger the free game without landing a scatter on the reels, you will be rewarded with an additional extra spin nevertheless.
Fruit Gemz - Those who are tired of all these new and modern slots based on ancient civilizations and superheroes often crave simple, fruit machine games, which still provide top notch fun. When such a game is executed superbly, it often can't be matched when immersive gaming experience is in question. Featuring the famous Connecta Way system, this game is meant for serious players first and foremost, so if you feel brave enough, maybe you should give it a go.
Spin Warrior - In this one, an epic contest takes place. Sensei tiger and master panda fight till the very end, throughout the 12 extra games, in order to determine which one will get the higher prize. Keep in mind that this kung fu classic offers a possibility of double your excitement and your wins, as it comes with dual reels.
Skylantis - Are you ready to take on the king of the golds? Meant only for those with a highly pronounced adventurous spirit, Skylantis will smother you in wilds and free games.
Wild Joker Stacks - Who doesn't like jokers, right? Well, over here there is a whole game themed after the beloved character, and the best bit is that it also offers some stacked niceties on the reels.
Conclusion
When all is said and done, it's clear that the good folks at Boomerang Studios aim to be the ultimate hub for those who are in need of game development. Their development process starts off with the storyboards, and it involves numerous steps of evolution before it reaches the final stage - a fully licensed gaming product.
| Slot Name | Rate | Software Name | Theme | Reel | Type |
| --- | --- | --- | --- | --- | --- |
| | 4.0 /5 | Boomerang Studios | Mystical, Mythology | 5 | Video |
| | 4.0 /5 | Boomerang Studios | Magic | 5 | Video |
| | 4.0 /5 | Boomerang Studios | Fruit, Joker | 5 | Video |
| | 4.0 /5 | Boomerang Studios | Fantasy, Jungle | 5 | Video |
| | 3.0 /5 | Boomerang Studios | Animals, Asian, Chinese | 5 | Video |
| | 3.0 /5 | Boomerang Studios | Fantasy, Gothic, Halloween | 3 | Video |
| | 3.0 /5 | Boomerang Studios | Egyptian | 6 | Video |
| | 2.0 /5 | Boomerang Studios | Halloween, Party, Mexican, Festivity | 5 | Video |
| | - | Boomerang Studios | Magic | 5 | Video |
| | - | Boomerang Studios | Vikings | 5 | Video |
| | - | Boomerang Studios | Aquatic | 5 | Video |
Valkyrie Wild Storm
Rated 4 /5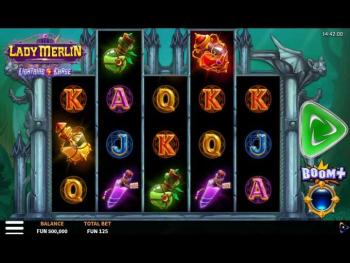 Lady Merlin Lightning Chase
Rated 4 /5
Wild Joker Stacks
Rated 4 /5
Temple Frenzy Lightning Chase
Rated 4 /5
Spin Warrior
Rated 3 /5
Gargoyle Infinity Reels
Rated 3 /5
Gems of Egypt Connecta Ways
Rated 3 /5
Wild Esqueleto
Rated 2 /5
Orcas Wild Bonanza Extenda Edition
-