iSoftBet Online Slots
iSoftBet has created a wide series of games since its inception several years ago. These games are developed exclusively for online gambling sites and are excellent as a result. The company is licensed to provide its games in Belgium, Spain, Italy, and Alderney, meaning that you will be playing these games at regulated and licensed brands.
Their Games
There may not be as many iSoftBet slots on offer as there are games from bigger developers such as Net Entertainment and Microgaming but the games that are available are incredibly popular among punters. The biggest games are iSoftBet's licensed titles, which are based on popular film franchises. These games include Basic Instinct, Platoon, Rambo, and Rango. Those games all contain artwork and footage, capturing the essence of the movie franchise they are replicating. Deep gaming features such as Free Spins, Expanding Wilds, and Pick'em Rounds that extend the playability of each title. There are also many games that they have developed exclusively in-house, which are unique properties to the company itself. These games have great features themselves and the production values are set to the same high standard of the licensed titles, and you will find crisp graphics complete with individually crafted reel symbols that look spectacular.
iSoftBet Jackpots
Jackpots There aren't many iSoftBet slots that offer progressive jackpots, but the Rango progressive jackpot has grown to be quite big in the past, and the Mona Lisa progressive also allows players to hit it big in one shot. Even though not all of the games have a huge prize waiting to be hit you can still do quite well by stringing together the various games' bonus features if you get lucky.
Are you looking to try iSoftBet's games before actually depositing and registering at a casino? If so, you can try out most of iSoftBet's library below, as we have worked to offer as many games as possible. These games load in your browser and have the complete features found at all operators. If you decide that you like a game and want to play it for real money, try NetBet.
| Slot Name | Rate | Software Name | Theme | Reel | Type |
| --- | --- | --- | --- | --- | --- |
| | 5.0 /5 | iSoftBet | Christmas, Fairy Tale | 6 | Video |
| | 5.0 /5 | iSoftBet | Christmas | 5 | Video |
| | 4.5 /5 | iSoftBet | | 5 | Video |
| | 4.0 /5 | iSoftBet | Arabian, Fairy Tale | 5 | Video |
| | 4.0 /5 | iSoftBet | | 5 | Video |
| | 4.0 /5 | iSoftBet | | 5 | Video |
| | 4.0 /5 | iSoftBet | Movies, Horror | 5 | Video |
| | 4.0 /5 | iSoftBet | Fantasy | 6 | Video |
| | 4.0 /5 | iSoftBet | Animals | 5 | Video |
| | 4.0 /5 | iSoftBet | Egyptian | 5 | Video |
| | 4.0 /5 | iSoftBet | Fantasy, Vikings | 6 | Video |
| | 4.0 /5 | iSoftBet | Food | 6 | Video |
| | 4.0 /5 | iSoftBet | Asian, Fantasy, Dragons | 5 | Video |
| | 4.0 /5 | iSoftBet | Western | 5 | Video |
| | 4.0 /5 | iSoftBet | Crime, Cops & Robbers | 5 | Video |
| | 4.0 /5 | iSoftBet | Gems & Jewels | 7 | Video |
| | 4.0 /5 | iSoftBet | Japanese | 5 | Video |
| | 4.0 /5 | iSoftBet | Fruit | 6 | Video |
| | 4.0 /5 | iSoftBet | Wildlife, Native | 5 | Video |
| | 4.0 /5 | iSoftBet | Animals, Country life | 5 | Video |
| | 3.8 /5 | iSoftBet | | 5 | Video |
| | 3.5 /5 | iSoftBet | | 5 | Classic |
| | 3.5 /5 | iSoftBet | | 5 | Video |
| | 3.5 /5 | iSoftBet | Fruit, Gems & Jewels | 3 | Classic |
| | 3.5 /5 | iSoftBet | Egyptian | 5 | Video |
| | 3.5 /5 | iSoftBet | Prehistoric, Adventure | 6 | Video |
| | 3.0 /5 | iSoftBet | Music | 5 | Video |
| | 3.0 /5 | iSoftBet | | 5 | Video |
| | 3.0 /5 | iSoftBet | | 5 | Video |
| | 3.0 /5 | iSoftBet | Animals, Aquatic | 5 | Video |
Scrooge Megaways
Rated 5 /5
Christmas Gold Digger
Rated 5 /5
Breath of Fire
Rated 4.5 /5
Ali Baba Wishes
Rated 4 /5
Skulls of Legend
Rated 4 /5
Slammin 7s
Rated 4 /5
Paranormal Activity
Rated 4 /5
Morgana Megaways
Rated 4 /5
Golden Buffalo Double Up
Rated 4 /5
Pyramid Pays
Rated 4 /5
Wild Hammer Megaways
Rated 4 /5
Royale With Cheese Megaways
Rated 4 /5
Legend Of The Four Beasts
Rated 4 /5
Outback Gold: Hold And Win
Rated 4 /5
Diamond Heist: Hold And Win
Rated 4 /5
The Magic Orb
Rated 4 /5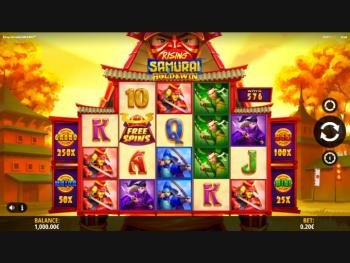 Rising Samurai: Hold & Win
Rated 4 /5
Triple Fruit Deluxe Megaways
Rated 4 /5
Wolf Canyon: Hold & Win
Rated 4 /5
Golden Gallina
Rated 4 /5
2012
Rated 3.8 /5
777 Double Bingo
Rated 3.5 /5
Alice Adventure
Rated 3.5 /5
Cherry Trio
Rated 3.5 /5
Book of Sheba
Rated 3.5 /5
Tyrant King Megaways
Rated 3.5 /5
80s Night Life
Rated 3 /5
Absolute Super Reels
Rated 3 /5
Afternoon Tea Party
Rated 3 /5
Dolphin's Island
Rated 3 /5
There are

326

slots remaining