Red Tiger Gaming Online Slots
The online slots that are produced by Red Tiger have something in common that you don't always see with games from a single software provider: They're consistent. They consistently bring both the graphical and gameplay qualities at a strong level, and that's why just about all of their games get great ratings from players. Every development house will have a flop here and there, but this company is so consistent that you don't typically see them often at all.
Visual Quality
The first thing you notice as a player when you look at any game is what the quality of the graphics is like. With this company, they incorporate several different actual styles into their visual approach, but it's always of a pretty high quality. There are very few games in their entire portfolio that look less than great, and that's often because they intend it to be that way. In a classic slot like Blue Diamond, for example, they want things to look a little more plain because that's what fits the motif of the game itself.
Gameplay Elements
While the visuals are always strong, all players know that a beautiful game will get old very quickly if it's not actually fun to play. The gameplay approach for the games by Red Tiger actually depend a bit on the theme and feel that they're going for. Some titles in their portfolio have a very fast-paced approach with a low-volatility and a high hit-rate, which means lots of small and medium wins and a rapid rate of spinning.
With that having been said, they have other games with a higher level of volatility as well, and those games play completely differently. Along these lines, some of their titles have a lot of features, and others have only one that the entire game revolves around. What you can see from this is that there's a ton of variety when it comes to how the slots actually play, and they do this to make sure that players are able to find something they enjoy. It's a great approach that works very well, and when you take into consideration that they have several dozen games, it helps them to capture a sizable piece of the player market.
Overview
The online slots produced by Red Tiger are very solid in all aspects of the player experience. What's really great about their selection is that they have enough high-quality games that you can go through and pick and choose which ones you prefer yourself instead of relying on one-size-fits-all styles of recommendations. This is exactly the type of software developer you should be looking at if you want a new favorite producer of slots because they consistently deliver a strong set of games with all of their releases, and they show no sign of slowing down at any point.
| Slot Name | Rate | Software Name | Theme | Reel | Type |
| --- | --- | --- | --- | --- | --- |
| | 5.0 /5 | Red Tiger Gaming | Gems & Jewels, Arcade | 3 | Video |
| | 5.0 /5 | Red Tiger Gaming | Gems & Jewels, Mining | 8 | Video |
| | 4.5 /5 | Red Tiger Gaming | Irish, Magic | 6 | Video |
| | 4.5 /5 | Red Tiger Gaming | Wildlife | 6 | Video |
| | 4.0 /5 | Red Tiger Gaming | Mystical | 5 | Video |
| | 4.0 /5 | Red Tiger Gaming | Retro | 3 | Video |
| | 4.0 /5 | Red Tiger Gaming | Asian, Dragons | 5 | Video |
| | 4.0 /5 | Red Tiger Gaming | Halloween, Magic | 5 | Video |
| | 4.0 /5 | Red Tiger Gaming | Adventure, Gems & Jewels | 5 | Video |
| | 4.0 /5 | Red Tiger Gaming | Horror, Halloween | 5 | Video |
| | 4.0 /5 | Red Tiger Gaming | Retro | 6 | Video |
| | 4.0 /5 | Red Tiger Gaming | Winter, Christmas | 6 | Video |
| | 4.0 /5 | Red Tiger Gaming | Gems & Jewels, Casino | 5 | Video |
| | 4.0 /5 | Red Tiger Gaming | Mystical, Dragons | 9 | Video |
| | 4.0 /5 | Red Tiger Gaming | Sports, Festivity | 5 | Video |
| | 4.0 /5 | Red Tiger Gaming | Movies | 5 | Video |
| | 4.0 /5 | Red Tiger Gaming | Gems & Jewels, Dance | 6 | Video |
| | 4.0 /5 | Red Tiger Gaming | Magic | 5 | Video |
| | 4.0 /5 | Red Tiger Gaming | Native | 5 | Video |
| | 4.0 /5 | Red Tiger Gaming | Gems & Jewels | 7 | Video |
| | 4.0 /5 | Red Tiger Gaming | Arabian, Fairy Tale | 6 | Video |
| | 4.0 /5 | Red Tiger Gaming | Antique, Greek, Mythology | 5 | Video |
| | 4.0 /5 | Red Tiger Gaming | Fishing | 5 | Video |
| | 4.0 /5 | Red Tiger Gaming | Music | 5 | Video |
| | 4.0 /5 | Red Tiger Gaming | Halloween | 5 | Video |
| | 4.0 /5 | Red Tiger Gaming | Greek, Mythology | 6 | Video |
| | 4.0 /5 | Red Tiger Gaming | Horror | 6 | Video |
| | 3.5 /5 | Red Tiger Gaming | Pirate | 5 | Video |
| | 3.5 /5 | Red Tiger Gaming | Jungle | 5 | Video |
| | 3.3 /5 | Red Tiger Gaming | Arabian | 5 | Video |
HarleCoin
Rated 5 /5
Treasure Mine Power Reels
Rated 5 /5
Well Of Wilds Megaways
Rated 4.5 /5
Buffalo Mania MegaWays
Rated 4.5 /5
Divine Ways
Rated 4 /5
Forever 7'S
Rated 4 /5
Dragon King Legend Of The Seas
Rated 4 /5
Beriched
Rated 4 /5
Wild Expedition
Rated 4 /5
Dracula Awakening
Rated 4 /5
NFT Megaways
Rated 4 /5
Jingle Ways Megaways
Rated 4 /5
Cash Or Nothing
Rated 4 /5
Dragons Clusterbuster
Rated 4 /5
Bulls Run Wild
Rated 4 /5
Flodder
Rated 4 /5
Risque MegaWays
Rated 4 /5
Zaida's Fortune
Rated 4 /5
Apache Way
Rated 4 /5
Majestic Mysteries Power Reels
Rated 4 /5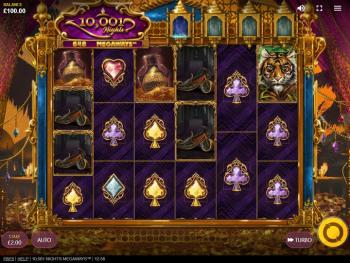 10,001 Nights MegaWays
Rated 4 /5
Gods Of Troy
Rated 4 /5
Bass Boss
Rated 4 /5
Rock n Lock
Rated 4 /5
Tricks And Treats
Rated 4 /5
Athens MegaWays
Rated 4 /5
Blood Suckers MegaWays
Rated 4 /5
Pirates Plenty
Rated 3.5 /5
Lord Of The Wilds
Rated 3.5 /5
Crazy Genie
Rated 3.3 /5
There are

210

slots remaining