KA Gaming Online Slots
Established in 2016, KA Gaming, a forward-thinking team of multicultural gaming enthusiasts quickly conquered the audience with its "kick-ass" approach. Dedicated to delivering the most powerful HTML5 content, this supplier is currently focused on slots and fish games.
One of the biggest proofs that their quality is recognized are two milestone cooperation deals. One of them was inked with Pariplay, the other with Slotegrator, both confirming that these go-getters have plenty to offer.
What's the most typical characteristic of KA Gaming's slot releases?
As for those things we can see on the surface, they all have amazing illustrations and well-painted symbols. Plus, the spectrum of topics is a wide one, ranging from culture and civilization-inspired stories, those featuring animals all the way to releases based on popular tales.
If you want to explore KA's wealthy portfolio more thoroughly and see which features are found in their games, join us and keep reading!
Vast Universe of Memorable Slots
If we were to name one of the most significant turning points in content production, we'd say that's the arrival of cutting-edge HTML5 into the world of casino games. Modern technologies revolutionized this branch of entertainment, and this provider is one of the brightest examples of well-implemented solutions.
Analyzing the features, one shall find Wilds, Scatters, multipliers, and respins, as well as those which energize the gameplay additionally, such as megaways mechanics or cascading wins. Aside from bringing more action to the reels, they are the "guilty ones" for fine winning potential.
Returning to the "surface", where such diversity of characters and symbols is seen, it is more than clear that the producer wanted to cover as many different tastes as possible. As you can see, those are all the themes everyone loves, and they will never get old.
That's precisely why studios need to give their max and make them look up-to-date and immersive. With a lobby of more than 200 titles, this producer provided multiple proofs that they are capable of achieving that.
Actionable Fish Games
Entirely different from one-armed bandits, these games have no reels and no paylines. Instead, a player is engaged in shooting versatile marine creatures and score various prizes. Growing in popularity at the speed of light, they gradually started welcoming more and more new characters, not only from the underworld but from up above as well.
King Octopus, Air Combat 1942, KA Fish Hunter, Space Cat, and Romance of the Three Kingdoms, are the adventures currently found in the provider's lobby. Its number is bound to grow.
Anything Else in KA's Portfolio?
Even though slots titles and fish-shooting adventures are the producer's main focus, the team ventured into other categories as well. In a dedicated corner of their catalog., punters can discover Baccarat, Super Keno, Super Video Poker, as well as Flower and Fruit Mountain, Shock Tower, and Dragon Ball.
What does that tell us?
It's a strong indicator that this content supplier is willing to push the limits and explore new possibilities in other genres. And that's precisely the key to remain visible in the busy entertainment industry.
| Slot Name | Rate | Software Name | Theme | Reel | Type |
| --- | --- | --- | --- | --- | --- |
| | 5.0 /5 | KA Gaming | Asian | 5 | Video |
| | 4.0 /5 | KA Gaming | Animals, Asian, Jungle | 5 | Video |
| | 4.0 /5 | KA Gaming | Easter | 5 | Video |
| | 3.0 /5 | KA Gaming | Asian | 5 | Video |
| | 3.0 /5 | KA Gaming | Sweets | 6 | Video |
| | 3.0 /5 | KA Gaming | Love | 5 | Video |
| | 3.0 /5 | KA Gaming | Fantasy | 5 | Video |
| | 3.0 /5 | KA Gaming | Love | 5 | Video |
| | 3.0 /5 | KA Gaming | Food | 5 | Video |
| | 3.0 /5 | KA Gaming | Animals | 5 | Video |
| | 2.0 /5 | KA Gaming | Aquatic | 5 | Video |
| | 2.0 /5 | KA Gaming | Secret Agent | 5 | Video |
| | - | KA Gaming | Arabian | 6 | Video |
| | - | KA Gaming | Asian | 5 | Video |
| | - | KA Gaming | Asian, Chinese | 5 | Video |
| | - | KA Gaming | Magic | 6 | Video |
| | - | KA Gaming | Gems & Jewels | 5 | Video |
| | - | KA Gaming | Asian, Travel | 5 | Video |
Fortune Fu
Rated 5 /5
Panda Family
Rated 4 /5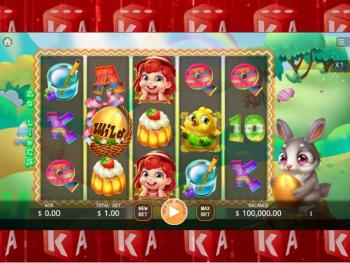 Easter Egg Party
Rated 4 /5
Heng And Ha
Rated 3 /5
Sweetopia
Rated 3 /5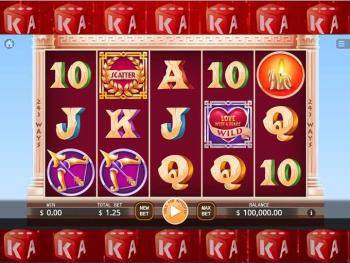 Cupid And Psyche
Rated 3 /5
Werewolf Is Coming
Rated 3 /5
Love In Memory
Rated 3 /5
American Burger
Rated 3 /5
Meowfia
Rated 3 /5
Secret Of Ocean
Rated 2 /5
James Bond
Rated 2 /5
Persia Bonanza Megaways
-