OpenBet Online Slots
OpenBet is a software provider for the betting and online gaming industry. They formed in 1996, and now have offices throughout the world, with their head office being in the UK. They regularly sign content deals with other software companies, so that their software programmes can offer a mix of exciting games to their customers.
They also create their own games; today we are only going to talk about their video and classic slot games. OpenBet are probably best known for their range of branded games. They seem to have the knack to be able to sign deals to create games based upon some of the most beloved TV shows and films. For example; Hole in the Wall, Legally Blonde, The X Factor, Who Wants to be a Millionaire, The Price is Right and The Magnificent Seven.
Their games have the playability factor with interesting well designed symbols in bright colours and a range of different features that are often in keeping with the theme of the game.
They also have a great selection of progressive jackpots; Astro Fruit, Caribbean Nights, Cash Drop, Vegas Nights and Wizard of Odds. To our knowledge these games haven't ever made anyone a millionaire, but Rumble in the Jungle did pay out £403,680 to one lucky British player. You could be next!
We also looked into the general payout percentage of their games and found that they tend to be around the 95% mark. However, we couldn't find the official figures published on their website. If you want to try their games out to stand the chance of winning real money you can play at Tropezia Palace.
| Slot Name | Rate | Software Name | Theme | Reel | Type |
| --- | --- | --- | --- | --- | --- |
| | 3.5 /5 | OpenBet | | 5 | Video |
| | 2.0 /5 | OpenBet | | 5 | Video |
| | 2.0 /5 | OpenBet | | 5 | Video |
| | 2.0 /5 | OpenBet | | 5 | Video |
| | - | OpenBet | | 5 | Video |
| | - | OpenBet | | 5 | Video |
| | - | OpenBet | | 5 | Video |
| | - | OpenBet | | 5 | Video |
| | - | OpenBet | | 5 | Video |
| | - | OpenBet | | 5 | Video |
| | - | OpenBet | | 5 | Video |
| | - | OpenBet | | 5 | Video |
| | - | OpenBet | | 5 | Video |
| | - | OpenBet | | 5 | Video |
| | - | OpenBet | | 5 | Video |
| | - | OpenBet | | 5 | Video |
| | - | OpenBet | | 5 | Video |
| | - | OpenBet | | 3 | Video |
| | - | OpenBet | | 5 | Video |
| | - | OpenBet | | 5 | Video |
| | - | OpenBet | | 5 | Video |
| | - | OpenBet | | 5 | Video |
| | - | OpenBet | | 5 | Video |
| | - | OpenBet | | 5 | Video |
| | - | OpenBet | | 5 | Video |
| | - | OpenBet | | 5 | Video |
| | - | OpenBet | Fantasy | 5 | Video |
| | - | OpenBet | | 5 | Video |
| | - | OpenBet | Horror, Halloween | 5 | Video |
| | - | OpenBet | | 5 | Video |
Vegas Nights
Rated 3.5 /5
Alien Autopsy
Rated 2 /5
The Magnificent Seven
Rated 2 /5
The Price Is Right
Rated 2 /5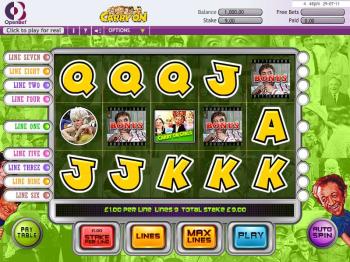 Dead Man's Chest - 3 Reel
-
Dead Man's Chest - 5 Reel
-
There are

36

slots remaining