Quickspin Online Slots
Quickspin is still a relatively young software developer company, as they only launched in 2012; however, its founders previously worked in high positions for Net Entertainment and Unibet. Over the last couple of years, their company has gathered a cult following, which has led to them signing content deals with some of the largest gambling companies in the world including; The Rational Group and Unibet Group.
The company currently only creates video slot games for; the iGaming market and the free to play social market. When they launched their company, they wanted to create unique high quality games that they would enjoy playing themselves. What they have created so far has backed this up, and they have even won a variety of different rewards for their games.
Currently, they only have a handful of games to offer. The majority of these games are based upon popular fairytales or stories, which they have managed to give a fresh prospective to with outstanding graphics and unusual and exciting features. They have also come up with their own theme of games with their; Firestorm, Sugar Trail and Supernova games.
We couldn't find the theoretical return to player percentages on their website; however, when we were enjoying some of their games we notice that this information could be found under the Question Mark symbol in the top right hand corner of the game. Return to player percentages tend to range between 96% and 98%.
| Slot Name | Rate | Software Name | Theme | Reel | Type |
| --- | --- | --- | --- | --- | --- |
| | 5.0 /5 | Quickspin | Fruit | 3 | Video |
| | 5.0 /5 | Quickspin | Christmas | 5 | Video |
| | 4.0 /5 | Quickspin | | 3 | Video |
| | 4.0 /5 | Quickspin | | 5 | Video |
| | 4.0 /5 | Quickspin | Action, Crime, Luxury | 5 | Video |
| | 4.0 /5 | Quickspin | Fantasy, Gems & Jewels, Chinese | 5 | Video |
| | 4.0 /5 | Quickspin | Medieval | 5 | Video |
| | 4.0 /5 | Quickspin | Roman | 6 | Video |
| | 4.0 /5 | Quickspin | Fruit | 5 | Video |
| | 4.0 /5 | Quickspin | Fairy Tale, Country life | 6 | Video |
| | 4.0 /5 | Quickspin | Gems & Jewels, Joker | 5 | Video |
| | 4.0 /5 | Quickspin | Christmas | 5 | Video |
| | 4.0 /5 | Quickspin | Space, Gems & Jewels | 5 | Video |
| | 4.0 /5 | Quickspin | Luxury | 5 | Video |
| | 4.0 /5 | Quickspin | Adventure, Western | 5 | Video |
| | 4.0 /5 | Quickspin | Sports, Football | 5 | Video |
| | 3.5 /5 | Quickspin | | 5 | Video |
| | 3.5 /5 | Quickspin | Pirate, Islands | 5 | Video |
| | 3.5 /5 | Quickspin | Space | 5 | Video |
| | 3.5 /5 | Quickspin | Fairy Tale, Magic | 5 | Video |
| | 3.5 /5 | Quickspin | Nature, Islands | 5 | Video |
| | 3.5 /5 | Quickspin | Action | 5 | Video |
| | 3.5 /5 | Quickspin | Horror | 5 | Video |
| | 3.0 /5 | Quickspin | Fairy Tale | 5 | Video |
| | 3.0 /5 | Quickspin | Fairy Tale | 5 | Video |
| | 3.0 /5 | Quickspin | Adventure, Space | 5 | Video |
| | 3.0 /5 | Quickspin | Animals, Jungle | 5 | Video |
| | 3.0 /5 | Quickspin | Gems & Jewels | 5 | Video |
| | 3.0 /5 | Quickspin | Mythology | 5 | Video |
| | 3.0 /5 | Quickspin | Casino | 5 | Video |
Reno 7's
Rated 5 /5
Cash Truck Xmas Delivery
Rated 5 /5
Supernova
Rated 4 /5
Goldilocks
Rated 4 /5
The Wild Chase
Rated 4 /5
Dragon Shrine
Rated 4 /5
Crown Of Valor
Rated 4 /5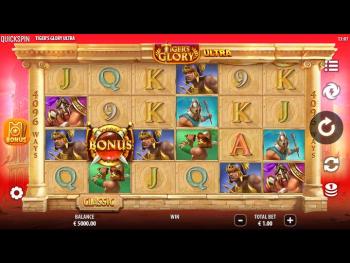 Tiger's Glory Ultra
Rated 4 /5
Sevens High Ultra
Rated 4 /5
Big Bad Wolf Megaways
Rated 4 /5
Wild Harlequin
Rated 4 /5
Spinions Christmas Party
Rated 4 /5
Warp Wreckers Power Glyph
Rated 4 /5
Flip Royale
Rated 4 /5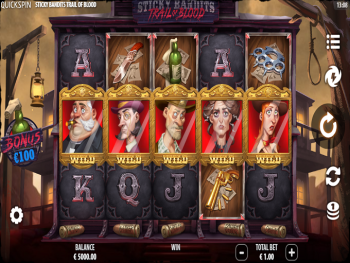 Sticky Bandits Trail of Blood
Rated 4 /5
Spinions Game Day
Rated 4 /5
Beowulf
Rated 3.5 /5
Treasure Island
Rated 3.5 /5
Bigbot Crew
Rated 3.5 /5
Ivan and the Immortal King
Rated 3.5 /5
Divine Dreams
Rated 3.5 /5
Slugger Time
Rated 3.5 /5
Book of Inferno
Rated 3.5 /5
Big Bad Wolf
Rated 3 /5
Rapunzel's Tower
Rated 3 /5
Ticket to the Stars
Rated 3 /5
Panthers Reign
Rated 3 /5
Arcane Gems
Rated 3 /5
Artemis VS Medusa
Rated 3 /5
Diamond Duke
Rated 3 /5
There are

69

slots remaining