ReelNRG Online Slots
Tired of the slot machines with similar appearance, gameplays and features? Then direct your attention to ReelNRG slots that bring originality back in play.
The provider focuses on delivering modern casino content with an emphasis on one-armed bandits. It creates its slots by the player's angle, making them interesting primarily to punters. And releases that users find enjoyable, operators want to have in their game library.
Due to their quality...
...slots by this brand has attracted the big names from the industry and now can be found in some of the best online casinos, such as Mr Green or 888 Casino, amongst many others.
How can they not to, when they provide a premium playing experience, abundance of special features, all levels of volatility, paylines of different types and a range of original themes.
Shall we see what make these slots stand out?
Varity Of Exciting Special Features
These days, players are used to special features that are boosting the winning potential. One of the most common ones is an Extra Spins Round, found in the majority of modern, new-age slots. This special feature plays a big role in most of the provider's titles bringing a different number of additional spins. In some cases, this round comes with multipliers, like in the Win Voyage slot with 720 ways to win.
Extra spins with Growing Wilds is an exciting feature found in Lady Leprechaun. Besides a number of additional spins, players will see their wilds growing to the size that covers all four rows. This 6x4 game also comes with respins and Pots of Gold picking mini-game.
Farm Charm slot features Cascading Wins, extra spins with expanding wilds, and Respin Reward (randomly triggered). The appearance of at least 3 Bonus symbols triggers Hay Bale Bonus round where players have a chance to win multiplier prizes.
During this round, each spin comes with 3 options:
Spin
Collect
2x Multiplier & spin

Side Bet Option
One of the provider's latest additions released in December 2020, Genie's Gold, introduced a Side Bet to the mix. When Side Bet is enabled, it allows players to place bets on the prospect of a scatter symbol appearing in the next spin.
Reel 1 and 2 are paying out x10.25 total bet, while reels 3, 4 and 5 pay x9.57 total bet. This high volatility slot also features an extra spin round, wild symbols and RTP of 96%.
Bottom Line: Are ReelNRG Slots Recommendable To Players?
Although the bonus rounds are similar to the ones we've seen before, they are unique in their own way. In the presentation and value that they might bring. But most importantly, in a way they are combined together.
When we have a mix of several extraordinary special features in one slot game, this elevates the gameplay to a completely new stage. Makes the whole experience more rewarding, exciting and engaging.
Of course, it doesn't hurt when such a feature-rich release has superb graphics and stunning visuals. Add to that an innovative theme, elaborate backstory, full mobile optimization and all elements of an extraordinary game are there.
It seems like the provider has found a recipe for creating high-quality slots that players enjoy. Its portfolio is full of interesting and out-of-the-box games. So, if that's what you're looking for, we recommend to try out ReelNRG slots.
| Slot Name | Rate | Software Name | Theme | Reel | Type |
| --- | --- | --- | --- | --- | --- |
| | 3.3 /5 | ReelNRG | Asian | 5 | Video |
| | 3.0 /5 | ReelNRG | Asian | 5 | Video |
| | 3.0 /5 | ReelNRG | Fairy Tale | 5 | Video |
| | 3.0 /5 | ReelNRG | | 5 | Video |
| | 3.0 /5 | ReelNRG | Gems & Jewels, Mining | 5 | Video |
| | 3.0 /5 | ReelNRG | Egyptian | 5 | Video |
| | 3.0 /5 | ReelNRG | Aquatic, Fantasy | 7 | Video |
| | - | ReelNRG | Fairy Tale | 5 | Video |
| | - | ReelNRG | Fantasy | 5 | Video |
| | - | ReelNRG | Egyptian | 5 | Video |
| | - | ReelNRG | Vikings | 5 | Video |
| | - | ReelNRG | Mystical | 5 | Video |
| | - | ReelNRG | Dragons | 5 | Video |
| | - | ReelNRG | Asian, Chinese | 5 | Video |
| | - | ReelNRG | Space | 5 | Video |
| | - | ReelNRG | Animals, Country life | 5 | Video |
| | - | ReelNRG | Animals, Cute and Fluffy, Easter | 5 | Video |
| | - | ReelNRG | Music, Flowers, Party, Beach, Drink | 5 | Video |
| | - | ReelNRG | Party, Mexican, Festivity | 5 | Video |
| | - | ReelNRG | Lifestyle, Casino | 3 | Video |
| | - | ReelNRG | Animals, Aquatic, Travel | 5 | Video |
Goddess of Asia
Rated 3.3 /5
Shanghai Respin
Rated 3 /5
Snow Wild
Rated 3 /5
Spinderellas Riches
Rated 3 /5
Gem Miner
Rated 3 /5
Book of Nefertiti
Rated 3 /5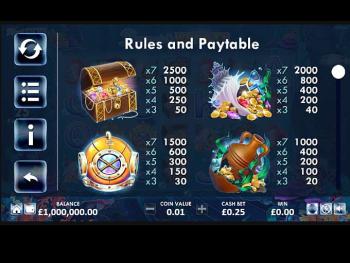 Mermaids Wealth
Rated 3 /5