Ruby Play Online Slots
When building a business, the client's feedback is crucial for getting confirmation if things are heading in the right direction. Having enough personal experience to be able to observe things from consumers' point of view is equally precious, and that's precisely the core value of Kyiv-located content creators Ruby Play.
Entering the industry in 2017, the company aims to implement cutting-edge solutions and technology to build the content which meets the demands of the modern consumers which are constantly on the go. The company's tagline "For Gamblers, By Gamblers" confirms that these "gamblers at heart" have the necessary knowledge to conquer the audience.
Paving the Way with Most-Popular Topics
Even though almost every software developer utilizes many times exploited topics, it's the approach that makes them look different and innovative.
Ruby's portfolio is the home to gorgeous females and Asia-themed titles…
…two widely popular and commonly used themes. Almost every featured release has a beautiful lady as the main character, and the majority of them mixes these two spheres, bringing a unique story of excellent design. But, the team tried the luck with other topics as well, managing to bring a captivating story with each new product.
All of the titles are filled with vibrant and juicy colors, resulting in a slightly darkish, but yet not obscure atmosphere. The artistic graphics and excellent animation result in an immersive experience.
At the time being, the studio is focused on producing slots exclusively. Some of the releases from the studio's lobby include Piggy Gold, Medusa Money, Lady Phoenix, Wild Thirst, Sheerluck, and several others.
Action-Packed Portfolio
Being techy and innovative, the Kyiv-based creative team recognized that besides visually-appealing stories, games need to be feature-filled and highly-dynamic.
Among the options implemented in the releases…
…one may find versatile Wilds and Scatters, along with a multitude of features that can trigger additional rounds, maintaining the necessary dose of action during the sessions. Adding more challenge to the story, some of the games are also equipped with JPs.
A precise balance between the action and visual aspect of every title from their collection has another element in common which additionally intensifies the experience. Call it the power of music, or whatever you like, but the team utilized the most suitable melodies and sound effects, making sure each story gets its final touch.
Key Components of Studio's Approach
Knowing that unparalleled mobile experience is most appreciated among consumers, Ruby Play utilizes HTML5 with WebGL, making the entire catalog available across all devices and operating systems, all the time.
High frame rate (FPS) ensures lower CPU load and increased efficiency…
…while lower battery usage results in longer gaming sessions. Priority load and art-compression system also contribute greatly to the enhanced gaming experience. Full solution and back-office integration make sure all game mechanics run smoothly and without issues.
| Slot Name | Rate | Software Name | Theme | Reel | Type |
| --- | --- | --- | --- | --- | --- |
| | 5.0 /5 | RubyPlay | Fantasy | 5 | Video |
| | 4.0 /5 | RubyPlay | Horror | 5 | Video |
| | 4.0 /5 | RubyPlay | Fairy Tale | 5 | Video |
| | 4.0 /5 | RubyPlay | Halloween, Mexican, Festivity | 5 | Video |
| | 3.5 /5 | RubyPlay | Animals | 5 | Video |
| | 3.0 /5 | RubyPlay | Sports | 5 | Video |
| | 3.0 /5 | RubyPlay | Adventure, Pirate | 5 | Video |
| | 3.0 /5 | RubyPlay | Animals, Asian, Chinese | 5 | Video |
| | 3.0 /5 | RubyPlay | Retro | 5 | Video |
| | 3.0 /5 | RubyPlay | Mining | 5 | Video |
| | 3.0 /5 | RubyPlay | Animals, African | 5 | Video |
| | 3.0 /5 | RubyPlay | Egyptian | 5 | Video |
| | 3.0 /5 | RubyPlay | Casino, Vegas | 5 | Video |
| | 3.0 /5 | RubyPlay | Irish | 5 | Video |
| | 3.0 /5 | RubyPlay | Asian | 5 | Video |
| | 3.0 /5 | RubyPlay | Adventure, Egyptian | 5 | Video |
| | 3.0 /5 | RubyPlay | Mayan | 5 | Video |
| | 2.5 /5 | RubyPlay | Aquatic | 6 | Video |
| | 2.0 /5 | RubyPlay | Gems & Jewels | 6 | Video |
| | - | RubyPlay | Dragons | 5 | Video |
| | - | RubyPlay | Mining | 5 | Video |
| | - | RubyPlay | Asian | 5 | Video |
| | - | RubyPlay | Gems & Jewels, Casino, Retro | 3 | Video |
| | - | RubyPlay | Animals, Gems & Jewels, African | 5 | Video |
| | - | RubyPlay | Animals, Medieval | 5 | Video |
| | - | RubyPlay | Asian, Chinese, New Year | 5 | Video |
| | - | RubyPlay | Gems & Jewels, Crime, Mystical | 5 | Video |
| | - | RubyPlay | Animals, Mystical | 6 | Video |
| | - | RubyPlay | Mayan | 5 | Video |
| | - | RubyPlay | Asian, Fantasy, Mystical | 5 | Video |
Alice In The Wild
Rated 5 /5
Dr Frankenstein
Rated 4 /5
Adventures Of Li'l Red
Rated 4 /5
Feliz Dia De Los Muertos
Rated 4 /5
Bull Fever
Rated 3.5 /5
Reel All Stars
Rated 3 /5
Pirates Booty
Rated 3 /5
Shake Shake Money Tree
Rated 3 /5
Rush Fever 7s
Rated 3 /5
Silver & Gold Mine
Rated 3 /5
African Cats
Rated 3 /5
Sun Of Ra
Rated 3 /5
Vegas No Limit Wins
Rated 3 /5
Clovers Of Luck
Rated 3 /5
Prosperity Journey
Rated 3 /5
Book of Riches Deluxe Chapter 2
Rated 3 /5
Mayan Blaze
Rated 3 /5
Medusa Money
Rated 2.5 /5
Immortal Ways Diamonds
Rated 2 /5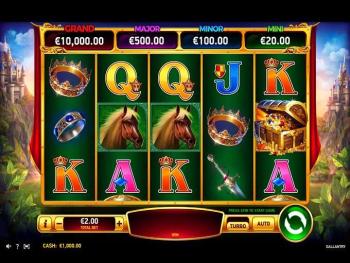 There are

16

slots remaining