Evoplay Entertainment Online Slots
Malta-based supplier, with a development center located in Ukraine, has one clear goal- to kick-start the future and conquer the industry with the most immersive and innovative slot games. Greenlighted by MGA and eCogra, the enthusiastic producer is committed to creating a safe and fair environment and take player experience to the highest heights.
Does Evoplay Entertainment produce one-armed bandits only, or it offers more than that?
The vast majority of releases found in its portfolio are colorful and diverse slot titles, but aside from that, the catalog also bolsters instant and table games.
Releases are not the only product found in this creative workshop, as the company boasts a plethora of useful solutions. Smooth API integration, bets management, multi-lingual and multi-currency optimization, AAA quality, and request features is the spectrum of products provided by this forward-thinking team.
Stay tuned to take a look at Evoplay's visually impressive repertoire of games!
Exploring the Wealthy Portfolio
Though at the first glance the themes found in their games may seem too cliché, they are unlike the ones found in competitors' libraries.
Whether drawing inspiration from ancient cultures and civilizations…
…or seeking it deep under the sea, or when portraying adventurous quests, they incorporate a multitude of tiny details and unique symbols, and carefully choose each and every color. Such combination results in immersive gameplays and storylines which cater to the needs of the most sophisticated clientele.
What can be found in the developer's collection?
Slots: Exploding Fruits, The Legend of Shaolin, Atlantis, Battle Tanks, Basketball, Jewellery Store, Legends of Ra, Monster Lab, Slavs, Sprinkle, Necromancer, and more.
Table games: European and French Roulette, American Roulette 3D, Oasis Poker Classic, Russian Poker, and more.
Instant: Bomb Squad, High Striker, Mine Field, Scratch Match, Red Queen, and others.
Powerful Engine
Taking a pioneering approach to game development, the team continuously pushes the limits and their dynamic engine named Spinential is one of the proofs that they are unstoppable.
Driven by a huge desire to create…
… a centralized platform that seamlessly combines all the studio's mechanics, they came up with one more inventive solution. Enabling them to create both stunning 2D and 3D slots with one proprietary tool, Evoplay adds even more value to their already unparalleled products.
The tool drastically accelerates game loading and download speeds, highlights outstanding multi-dimensional visual effects, and levels up entertainment quality.
How Versatile Are the Features in Their Releases?
With the possibility to move the camera to change the view, 3D allows players to immerse fully into the multidimensional realm. Accompanied by the finest VR, it delivers a completely enhanced level of 360-degree game experience.
Supporting a wide range of platforms and devices…
…developer's titles are produced in Full HD resolution, guaranteeing the highest quality and multi-functionality. Done on cutting-edge HTML5 technology, the releases can be activated on mobile gadgets, providing smooth performance, just like when assessed on desktop.
Scatters, a multitude of Wilds, extra spins, multipliers, mystery loot, bonus achievements are just some of the features incorporated in their games. Aside from its ordinary treats, they bear plenty of inventive and dynamic options, adding more action and twists to the stories.
Thanks to such a comprehensive portfolio…
…which comprises of the most convenient tools and top-quality content, Evoplay Entertainment is aligned with Ously Games, GrooveGaming, Nektan, SoftGamings, SlotsMillion, TabbyBet, Favbet, and many more.
| Slot Name | Rate | Software Name | Theme | Reel | Type |
| --- | --- | --- | --- | --- | --- |
| | 5.0 /5 | Evoplay | Egyptian | 5 | Video |
| | 4.0 /5 | Evoplay | Antique | 6 | Video |
| | 4.0 /5 | Evoplay | Aquatic, Fantasy | 5 | Video |
| | 4.0 /5 | Evoplay | Fruit | 8 | Video |
| | 4.0 /5 | Evoplay | Egyptian | 5 | Video |
| | 4.0 /5 | Evoplay | Christmas, New Year | 5 | Video |
| | 3.5 /5 | Evoplay | Animals, Fantasy, Mystical, Cute and Fluffy | 5 | Video |
| | 3.5 /5 | Evoplay | Mexican | 5 | Video |
| | 3.0 /5 | Evoplay | Sports, Football | 5 | Video |
| | 3.0 /5 | Evoplay | Animals, Asian, Flowers, Chinese | 5 | Video |
| | 3.0 /5 | Evoplay | Animals, Cute and Fluffy | 5 | Video |
| | 3.0 /5 | Evoplay | Fruit | 3 | Video |
| | 3.0 /5 | Evoplay | Fruit | 3 | Video |
| | 3.0 /5 | Evoplay | Luxury, Party | 5 | Video |
| | 3.0 /5 | Evoplay | Fruit | 5 | Video |
| | 3.0 /5 | Evoplay | Fruit | 5 | Video |
| | 3.0 /5 | Evoplay | Christmas, Pirate | 5 | Video |
| | 2.8 /5 | Evoplay | Fantasy, Magic | 5 | Video |
| | 2.3 /5 | Evoplay | Chinese | 5 | Video |
| | - | Evoplay | Food | 5 | Video |
| | - | Evoplay | Horror, Halloween | 5 | Video |
| | - | Evoplay | | 6 | Video |
| | - | Evoplay | Action | 5 | Video |
| | - | Evoplay | Mystical | 5 | Video |
| | - | Evoplay | Action | 7 | Video |
| | - | Evoplay | Asian, Chinese | 5 | Video |
| | - | Evoplay | Mystical, Magic | 5 | Video |
| | - | Evoplay | Mystical | 5 | Video |
| | - | Evoplay | Asian, Chinese | 5 | Video |
| | - | Evoplay | Chinese | 5 | Video |
Anubis' Moon
Rated 5 /5
Atlantis
Rated 4 /5
Gold Of Sirens
Rated 4 /5
Fruit Disco
Rated 4 /5
Curse Of The Pharaoh
Rated 4 /5
Christmas Reach
Rated 4 /5
Forest Dreams
Rated 3.5 /5
Rueda de Chile
Rated 3.5 /5
Football
Rated 3 /5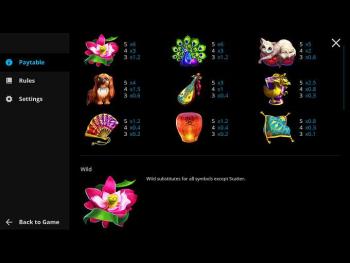 Charming Queens
Rated 3 /5
Fluffy Rangers
Rated 3 /5
Exploding Fruits
Rated 3 /5
Unlimited Wishes
Rated 3 /5
Sweet Sugar
Rated 3 /5
Fruit Super Nova 40
Rated 3 /5
Triple Chili
Rated 3 /5
Treasure-Snipes: Christmas
Rated 3 /5
Tree Of Light
Rated 2.8 /5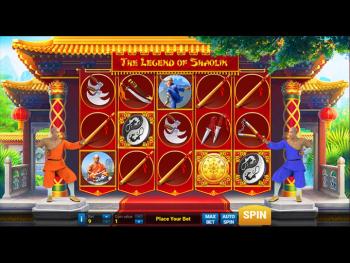 The Legend of Shaolin
Rated 2.3 /5
The Great Wall Treasure
-
There are

61

slots remaining