FUGA Gaming Online Slots
The online slots world has a lot of different providers all trying to be the best, and FUGA Gaming is a level above a significant portion of the competition. What they do that makes them stand out is that they focus on a type of quality that's difficult to find in the industry as a whole, and this is a type of quality that applies to every aspect of the games that they've produced since launching in 2014.
Features and Gameplay
One of the first things that many players notice on the pay tables of games produced by this developer is that the features are often a bit different than what you've seen before. Some of their titles have entirely new features that they more or less came up with themselves, and others have new twists on old favorites that bring them outside of the box a bit. This is important because without a high-quality gameplay, their games will be just better-looking versions of the rest, which is not what any company really wants to try to do if they want to be really successful.
Visual Appeal
There's a saying that you can have the most delicious cake in the world, but no one will want to eat it if it looks like it's been dropped on the floor. It would appear that FUGA knows the core of this lesson because they don't just rely on super-strong gameplay with their slots. Instead, they offer great graphics as well, and they often cover a number of different styles of graphics in their titles to mix things up as well, which puts them ahead of the competition in yet another way.
Our Thoughts
There's no denying that FUGA Gaming produces some excellent titles. They've been able to get their games in a number of important software platforms and with a large variety of casinos because of how great their slots compare to the competition, and you can put their games side-by-side with anyone else's in the industry, and they'll hold up well. This type of competition is strong in the industry with so many sites having games from so many different providers in the modern era, and that's why it's important for companies like this one that they're able to hang by every measure you could think of.
| Slot Name | Rate | Software Name | Theme | Reel | Type |
| --- | --- | --- | --- | --- | --- |
| | 3.3 /5 | FUGA Gaming | Aquatic | 5 | Video |
| | 3.0 /5 | FUGA Gaming | Asian, Chinese | 5 | Video |
| | 3.0 /5 | FUGA Gaming | Egyptian | 5 | Video |
| | 2.5 /5 | FUGA Gaming | Drink | 5 | Video |
| | - | FUGA Gaming | Animals, Winter | 5 | Video |
| | - | FUGA Gaming | Vikings | 5 | Video |
| | - | FUGA Gaming | Sci-Fi | 5 | Video |
| | - | FUGA Gaming | Cards, Magic | 5 | Video |
| | - | FUGA Gaming | Winter | 5 | Video |
| | - | FUGA Gaming | Magic | 5 | Video |
| | - | FUGA Gaming | Fruit | 5 | Video |
| | - | FUGA Gaming | Mystical | 5 | Video |
| | - | FUGA Gaming | Emoticons | 5 | Video |
| | - | FUGA Gaming | Asian | 5 | Video |
Oceans Secret
Rated 3.3 /5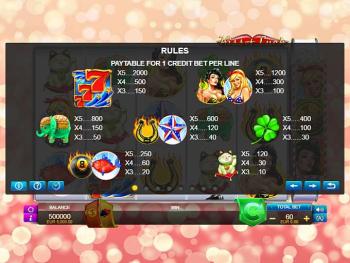 Kiss Of Luck
Rated 3 /5
3 Elements
Rated 3 /5
Just A Game
Rated 2.5 /5