Dragon Gaming Online Slots
Being part of the industry since 2004, Dragon Gaming has gradually built its name, relying on experience and experiments. It was 2019 when the studio decided to become an independent company and create its own content.
Focusing on slots, the passionate team of experts is not afraid to deal with a wide array of diverse topics, which are loved by punters from all over the globe. China, Egypt, fruits, animals-you name it, all these and much more is found in their well-equipped catalog.
How versatile are the features found in Dragon Gaming's slot games?
Versatility is immense, the least to say, as the opus of features they utilize comprises of the following: random wilds, random multiplier, matching feature, mega symbol feature, extra spins, but the list doesn't end with these.
Stay tuned to take a closer look at Dragon Gaming's selection of slot games!
Wide Spectrum of Interesting Themes
Traveling through DG's colorful collection of slot titles , a player will find him/herself in a universe filled with interesting characters, and action-packed stories.
Safari Stampede takes punters on an exciting journey giving them chance to meet African wildlife, while The Defenders challenge punters to join the dangerous mission and save the world. Those who want to pay a visit to Egypt can do so by spinning the reels of Legend of Horus, while punters who prefer Asia-inspired games can explore Lucky Macau or Empire of Riches.
Paying tribute to one of the most favorite icons of all times, fruits, the team crafted Fruity Feast, and to add more sweetness to the catalog, they came up with iScream.
Aside from the great selection of themes the provider leverages on high-end technology. All games are built on HTML5 to work with all browsers and can be accessed via both desktops and mobile devices. Let's not forget to mention great tunes, which additionally contribute to the authentic atmosphere.
Only when all these elements coexist in harmony, a developer can send the right message to its base of followers. And the thing this passionate team wants to say is that they are here to redefine and enhance the player experience.
Introducing DG's Wealth of Features
Adding more action to the reels and all those catchy topics they draw inspiration from is the generous selection of features.
Analyzing titles from the lobby players shall spot extra spins, matching features, re-spins, expanding/walking/random Wilds, random multipliers, and many more. Combined with the characters and stories, they create a highly-dynamic atmosphere and make each of these adventures even more challenging.
In terms of structure, one can find ordinary grids, such as 3x5, but, some releases come in a bit different form, for example, Empire of Riches, as it hosts 3x4x5x4x3 rows. As for the RTP, it revolves around 95-96%, while the range of volatility expands from medium to high.
Worth stressing out is that…
… the studio's entire palette of products is optimized in a multitude of languages and currencies, supporting crypto-assets as well. Thanks to this, their releases will easily find their way to lobbies of internationally most popular online casinos.
Altogether, Dragon Gaming shows that it's highly determined to create slot games which contain nothing less but true quality. With so much motivation and inspiration, there's no doubt that this producer stands great chances to become recognized in all corners of the world.
| Slot Name | Rate | Software Name | Theme | Reel | Type |
| --- | --- | --- | --- | --- | --- |
| | 4.0 /5 | Dragon Gaming | Mexican | 5 | Video |
| | 4.0 /5 | Dragon Gaming | Love, Beach, Tropical | 5 | Video |
| | 4.0 /5 | Dragon Gaming | Food, Retro | 5 | Video |
| | 4.0 /5 | Dragon Gaming | Festivity, Thanksgiving | 5 | Video |
| | 4.0 /5 | Dragon Gaming | Flowers, Love | 5 | Video |
| | 4.0 /5 | Dragon Gaming | Cars | 5 | Video |
| | 4.0 /5 | Dragon Gaming | Greek, Mythology | 5 | Video |
| | 3.5 /5 | Dragon Gaming | Food, Chinese | 5 | Video |
| | 3.0 /5 | Dragon Gaming | Crime, Cops & Robbers | 5 | Video |
| | 3.0 /5 | Dragon Gaming | Asian, Fantasy | 5 | Video |
| | 3.0 /5 | Dragon Gaming | Asian, Chinese | 5 | Video |
| | 3.0 /5 | Dragon Gaming | Asian, Chinese | 3 | Video |
| | 3.0 /5 | Dragon Gaming | Western, Cops & Robbers | 5 | Video |
| | 3.0 /5 | Dragon Gaming | Mythology, Chinese | 5 | Video |
| | 3.0 /5 | Dragon Gaming | Asian, Adventure | 5 | Video |
| | 3.0 /5 | Dragon Gaming | Space | 5 | Video |
| | 2.5 /5 | Dragon Gaming | Luxury | 5 | Video |
| | 2.0 /5 | Dragon Gaming | Sweets | | Video |
| | 2.0 /5 | Dragon Gaming | Festivity | 3 | Video |
| | 2.0 /5 | Dragon Gaming | Military | 5 | Video |
| | 2.0 /5 | Dragon Gaming | Mexican | 5 | Video |
| | 2.0 /5 | Dragon Gaming | Luxury | 5 | Video |
| | - | Dragon Gaming | Animals, Wildlife, African | 5 | Video |
| | - | Dragon Gaming | Chinese | 5 | Video |
| | - | Dragon Gaming | Egyptian | 5 | Video |
| | - | Dragon Gaming | Aztec | 5 | Video |
| | - | Dragon Gaming | Egyptian | 5 | Video |
| | - | Dragon Gaming | Asian, Dragons | 5 | Video |
| | - | Dragon Gaming | Christmas, New Year | 5 | Video |
| | - | Dragon Gaming | Horror, Zombies | 5 | Video |
El Mariachi
Rated 4 /5
Love Beach
Rated 4 /5
American Diner
Rated 4 /5
Chase the Turkey
Rated 4 /5
Oriental Flower
Rated 4 /5
Super Wild Race
Rated 4 /5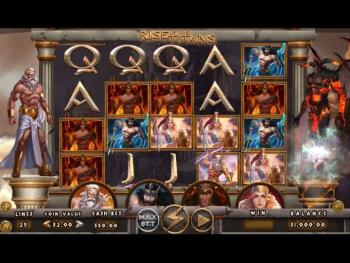 Rise Of The Titans
Rated 4 /5
Kung Food Panda
Rated 3.5 /5
The Bank Heist
Rated 3 /5
Mythical Creatures
Rated 3 /5
Prosperous Bloom
Rated 3 /5
Make You Rich
Rated 3 /5
Sheriff vs Bandits
Rated 3 /5
Four Mighty Beasts
Rated 3 /5
Demon Train
Rated 3 /5
Project Space
Rated 3 /5
The Richest
Rated 2.5 /5
Candy Factory
Rated 2 /5
Rabbits Riches
Rated 2 /5
Battle Ops
Rated 2 /5
Screaming Chillis
Rated 2 /5
Gems Gala Spin and Lock
Rated 2 /5
There are

2

slots remaining